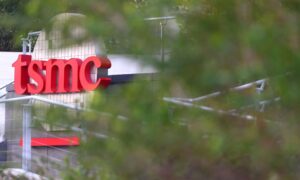 TAIPEI—Taiwan Semiconductor Manufacturing Co., Ltd. (TSMC), the world's largest contract chip maker, will hire more than 6,000 new staff in 2023, the company said in a statement on Saturday.
Hiring momentum is picking up despite the global downturn in the chip industry.
According to TSMC, the company is looking for young engineers with associate's, bachelor's, master's or doctoral degrees in electrical engineering or software-related fields in cities across Taiwan.
The average gross salary for a new engineer with a master's degree is NT$2 million ($65,578.07), the company added.
Declining demand for electronics and high inventory levels following shortages of some chips are leading to a downturn in the semiconductor industry.
From late 2022 onwards, many chip companies around the world are curbing investment.
Intel Corp. recently announced it would cut payouts to mid-level staff and executives from 5% to 25%.
TSMC's dominance in manufacturing some of the most advanced chips for high-end customers such as Apple Inc has shielded the company from recession.
The company expects to cut its annual capital expenditures slightly for 2023 and expect lower first-quarter revenue, but said it expects demand to recover by the second half of the year.
($1 = 30.4980 Taiwan Dollar)