[ad_1]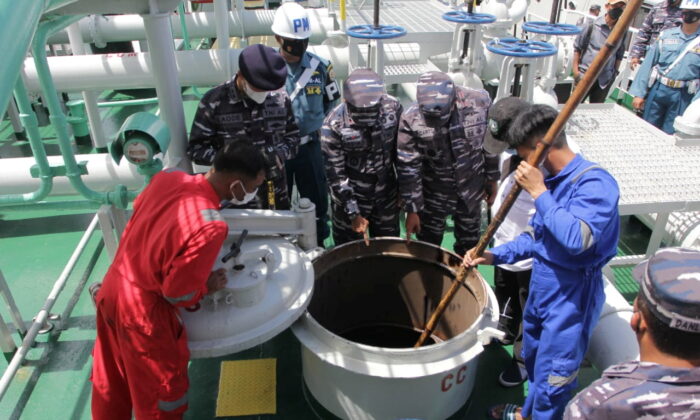 Indonesian Navy personnel inspect MT tanks, which are Panama-flagged tankers. Zodiac Star was confiscated on September 1, 2021 off the coast of Batam, Riau Islands, Indonesia, on suspicion of carrying more than 4,000 tons of oil without valid permission for illegal activities in the country's waters. (Courtesy: Indonesian Navy) / Distribution via Reuters)
The Jakarta-Indonesian Navy states that it seized Panama-flagged tankers in the waters off the Riau Islands after it was discovered that foreign ships were carrying more than 4,000 tons of oil without a valid permit.
Indonesian Navy commander Arsyad Abdullah said in a late Wednesday statement about the Panama-flagged tanker MT. Zodiac Star was confiscated on suspicion of illegal activity in the waters of the country.
The Navy said Panama-flagged tankers were carrying 4,600 tonnes of suspected waste "black oil" without a port permit or a permit to transport dangerous goods.
"The Navy will not hesitate to take action against any form of legal breach that occurs in the waters of Indonesia," Admiral Arshad Abdullah said, adding that their findings would be handed over to the public prosecutor's office.
According to the Navy commander, with 19 crew members, including 18 Indonesian citizens and 1 Malaysian citizen, the tanker was taken to Batam Port, Indonesia for further investigation.
This is not the first time a Panama-flagged vessel has violated authorities in Indonesian waters.
In January, Iran's and Panama's flagships MT Hose and MT Freyja were confiscated in Indonesian waters on suspicion of illegal oil transport.
Jakarta station
[ad_2]