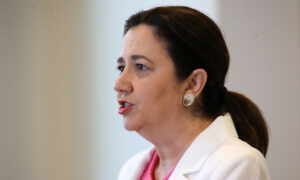 At around 4 p.m. on Friday, Queensland Health published a detailed list of venues and times visited by the infectious man on the Facebook post embedded below. Anyone who has been at the listed locations during the relevant times was advised to immediately get tested and isolate until they receive a negative result.
Premier Annastacia Palaszczuk said there was no need for alarm but reminded people of the need for social distancing and hand hygiene and digitally checking in with contact tracing apps when visiting venues.
"It's great to see people out and about," Palaszczuk said. "Over the last week, I've been to a couple of functions where there have been over 300 people. Can I just make some observations? People are not social distancing. We really need people to social distance.
"And the other thing that's come back is everyone is doing handshakes again. Please, we are still in the midst of a pandemic. Now is not the time to break our social distancing, our good hand hygiene, and the handshakes."
"So, I'm sorry, everyone, but we need to abide by these things if we're going to get through this," Palaszczuk said.
CCP Virus Health Impact in Queensland
The health impact of the CCP (Chinese Communist Party) virus, commonly known as novel coronavirus, which causes the COVID-19 disease, has not hurt Queensland as badly as in other states or parts of the world.
In the last year, only six Queenslanders have died while positive with the virus, and there have been less than 1,500 total cases.
The federal Department of Health says a COVID-19 death is "defined for surveillance purposes as a death in a probable or confirmed COVID-19 case, unless there is a clear alternative cause of death that cannot be related to COVID-19 (e.g. trauma)."
Over 1,300 Queenslanders who contracted the virus have recovered, while 69 active cases remain.
The vast majority of the cases have been centred around South East Queensland.