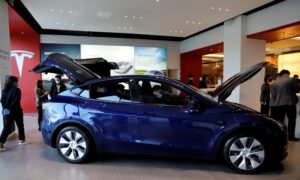 Washington — Tesla said Thursday that it will issue two new recalls to address the seatbelt issue.
One recall of the 2018-2020 Model 3 and 2019-2021 Model Y, as the fasteners that secure the front seat shoulder belt to the b-pillar may not have been properly installed. It covers 5,530 vehicles, including vehicles. Another recall covers 2,166 Model Y cars from 2019 to 2021. This is because the fasteners that secure the left and right second row seatbelt retractors may not be installed correctly.
Tesla told the US Department of Transportation Road Traffic Safety Administration that it was unaware of any collisions or injuries associated with the recall.
Tesla inspects the fasteners and replaces them if necessary to ensure they are secured to the correct specifications. Tesla added, "If a b-pillar hole thread or top loop is found to be damaged during inspection, Tesla Service will either repair the hole thread or replace the top loop."
During the assembly process, Tesla said that if the worker failed to meet the specified torque and angle requirements when fixing the front seat fasteners, "a nonconformity would occur and then the fasteners would be manually operated. Needed to be inspected and repaired by. During this inspection, it may not have been confirmed that the fasteners were secured to the correct specifications. "
Tesla issued three recalls this week due to manufacturing issues.
On Wednesday, NHTSA said Tesla had recalled 5,974 US 2019-2021 model 3 cars and 2020-2021 model Y cars.
By David Shepherdson