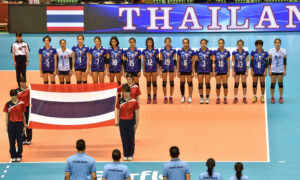 Recently, 26 members of Thailand's national women's volleyball team tested positive after receiving an injection of the Chinese-made COVID-19 vaccine. As a result, the team has withdrawn from the Volleyball Nations League (VNL) 2021.
Neighboring Thailand, which purchased a large amount of China's COVID-19 vaccine, withdrew its team from VNL in Italy from May 25th to June 19th. The Thai women's volleyball team is currently in the world.
All members and staff of the women's volleyball team received the first dose of the COVID-19 vaccine manufactured by the Chinese state-owned company Sinovac on April 29.
On May 12, 22 athletes and 4 staff members tested positive for COVID-19 in a pre-match test and were sent to the hospital for observation and treatment.
The Fédération Internationale de Volleyball (FIVB) does not prohibit teams from participating in the World League and is investigating the case.
"We apologize to our fans across the country and take care of the affected athletes and staff as if they were part of a family," the FIVB said in a statement.
On May 14, the FIVB granted Thailand special permission to change the roster of the next tournament. Currently, Thai teams are retesting and drafting more players to bring together the teams participating in VNL.
Local doctors pointed out that the protection rate of Chinese vaccines was only 16% after the first injection two weeks later and increased to 67% two weeks after the second injection, according to a Chilean study. did. In contrast, the protection rate of vaccines produced in other countries is 60-70% within 3 weeks after the first injection and increases to 70-75% within 2 weeks after the second injection. Doctors also reminded us that no vaccine has a 100% protection against the CCP (Chinese Communist Party) virus that causes COVID-19 disease.
The Chinese administration has promoted a "vaccine diplomacy" strategy internationally to expand its geopolitical influence. Southeast Asian countries close to China first felt the impact.
Earlier this year, the Thai government ordered 2 million doses of COVID-19 vaccine manufactured by Chinese state-owned company Sinovac and administered it to more than 600,000 people nationwide. In March, the Thai government stuck to the Chinese vaccine, despite serious side effects of Chinese vaccines such as stroke reported in Thailand. It ordered an additional 1.5 million doses from a Chinese company.
In early May, President Rodrigo Duterte of the Philippines, another country in Southeast Asia, requested China to regain donations of 1,000 vaccines developed by China National Pharmaceutical. This is because it is not generally approved. Territorial disputes between China and the Philippines in the South China Sea have also expanded in recent months.