NEW DELHI — A Yeti Air plane crashed while trying to land at Nepal's newly opened airport over the weekend, killing all 72 people on board. It has not been confirmed, but said it reflected the Himalayan country's poor aviation safety record.
Jagannath Niloula, spokesman for the Civil Aviation Authority of Nepal, said the instrument landing system at Pokhara International Airport will not function until February 26, 56 days after the airport began operations on January 1. rice field.
Instrument landing systems help airplanes fly safely when pilots are unable to maintain visual contact with surrounding obstacles or the ground, mainly due to weather conditions or nighttime. Pilots can also fly visually rather than relying on instruments.
Pilots say Nepal, a mountainous region where visibility problems in flight are common, can be a difficult place to fly, but conditions were favorable at the time of the crash, with light winds and low winds. The skies were clear and temperatures were well above freezing.The cause of the crash is still unclear, but some aviation experts say video taken from the ground of the plane's final moments appears to be It states that it has stalled, but the reason is unknown.
Amit Singh, an experienced pilot and founder of the Indian Safety Affairs Foundation, said the lack of an instrument landing system or navigational aids may have "contributed" to the crash, calling it "notorious." He pointed out the high Nepalese aviation safety culture.
"Without navigation aids, flying in Nepal becomes difficult, and every time there is an issue during the flight, it puts an extra burden on the pilot," says Singh. "The lack of an instrument landing system only reaffirms that Nepal's aviation safety culture is not good enough."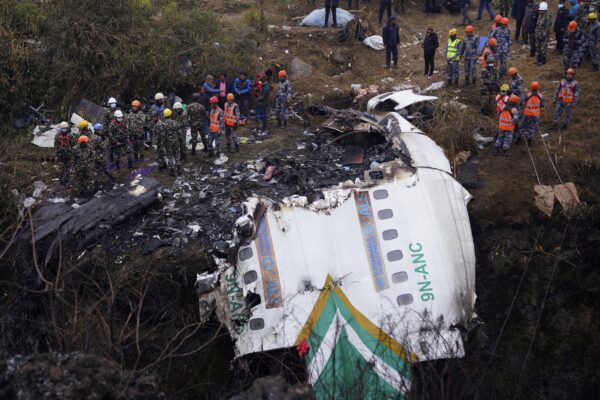 According to Yeti, the plane's cockpit voice recorders will be analyzed locally, while the flight data recorders will be sent to France. Both were recovered on Monday.
The twin-engine ATR 72-500 aircraft was flying toward Pokhara, 200 kilometers (125 miles) west of the capital Kathmandu, when it plummeted into a gorge as it approached the airport. The crash site is approximately 1.6 kilometers (1 mile) from the runway, at an altitude of approximately 820 meters (2,700 feet).
The crash is Nepal's deadliest since 1992, when a Pakistan International Airlines plane crashed into a hill while trying to land in Kathmandu, killing all 167 people on board. According to the Safety Matters Foundation, Nepal has had 42 fatal plane crashes since 1946.
According to a 2019 safety report by Nepal's Civil Aviation Authority, the country's "hostile terrain" and "diverse weather patterns" are the biggest hazards to flying in the country.
The European Union has banned flights from Nepal to a block of 27 countries since 2013, citing low safety standards. In 2017, the International Civil Aviation Organization cited improvements in Nepal's aviation sector, but the EU continues to demand administrative reforms.
Prime Minister Pushpa Kamal Dahal Prachanda met with bereaved families on Thursday and urged hospital authorities to expedite the remaining autopsies so that the bodies of some victims can be handed over to their families.
Authorities said they were taking time to identify the badly burned bodies.
sheikh sarik