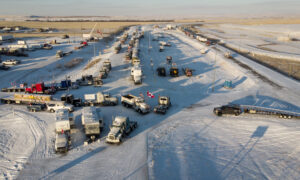 Protesters blocking Alberta from crossing the major US borders in Katz have changed their plans to abandon their protests, which began on January 29.
"Then a canceled decision was made," Marco van Basten said. Huigen Boss, One of the organizers of the truck convoy blockade, CBC News February 3rd.
Nothing is said about why the organizer overturned the decision. The RCMP had previously said it had heard that protesters would soon withdraw from the area, the CBC reported.

After the protesters agreed to clear the lanes in each direction of Highway 4, Partial pullback It arrived on February 2nd.
Traffic was temporarily disrupted by another blockade located 18km north of Coots near the Milk River. According to media reports, traffic conditions had improved by the night of February 2, but the next morning there were many trucks, semi-trailers and heavy equipment.
In the latest update, the Alberta RCMP said progress was made in the Katz border blockade.
"Transportation continues to flow on Highway 4 of Highway 501 for the border and residents of the Coots," said RCMP. twitter They asked the driver to keep avoiding "crowded" areas, but on February 4th.
Busy Between Facebook live In a Q & A session on February 3, Alberta Prime Minister Jason Kenny said the government will announce a "confirmed" date to terminate the state's vaccine passport early next week, with the actual cancellation date being that. He said it would be announced shortly after.
The prime minister added that next week the state will also announce a "step-by-step plan" to lift almost all COVID-19 restrictions by the end of the month, provided that pressure on hospitals continues to decline.
He explained why Alberta's high vaccination rates combined with the stabilization of hospital patient numbers make vaccine passports "not as strong today" as they were when they were first introduced last September.
"This is all premature, and some would say that COVID-Zero's policies need to be tracked and the risk is too high," Kenny said.
"Two years later, we can't continue to rely on blunt instruments that break limits as the primary tool for dealing with illnesses that are likely to be with us for the rest of our lives. . "