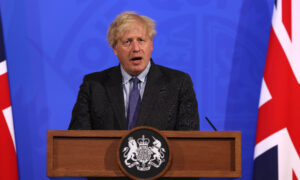 The government has confirmed that all UK legal restrictions, except self-quarantine, will be lifted from 19 July.
Prime Minister Boris Johnson announced at a briefing aired on Monday after Health Minister Sajid Javid renewed Congress.
Ministers said four tests set up for unlocking, successful vaccine deployment, evidence that vaccines are causing reduced hospitalizations and mortality, that infection rates do not risk a surge in hospitalizations, and concerns. We have concluded that the new mutant will not bring progress. It is off track and has been achieved, and step 4 of the roadmap can be carried out as planned.
Beginning July 19, mandatory rules regarding mask wearing, social distance, and restrictions on the number of people gathering will be replaced with guidance that people are encouraged to follow.
There is no mandatory COVID status passport, but the government "encourages the use of authentication in high-risk environments for businesses and large-scale events," Javid told MP.
The government will also publish guidance for "clinically very vulnerable" people and details of a review scheduled for September to assess autumn and winter preparations.
The minister urged people to "act with caution and personal responsibility" as the number of cases of COVID-19 is increasing rapidly.
"We can reach 100,000 in a summer day," said Javid.
In the same briefing with Johnson, Chief Medical Officer Chris Witty said the current wave is rising at the same rate as last fall. However, the number of new hospitalizations has decreased significantly from last year. Whitty said it is growing at a "slower, exponential rate". On the other hand, the mortality rate has risen slightly.
Ministers said there would never be a "perfect time" to unlock.
To those who say, "Why are you taking this step now?" I say, "If not now, when?", Javid said.
"There is no time to take this step because the virus cannot be eradicated."
Javid said the government's approach was "to balance the harm caused by Covid with the undeniable harm caused by restrictions."
PA contributed to this report.