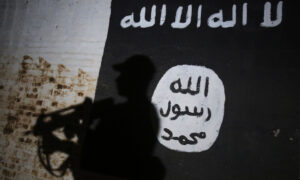 New York — A newly-married couple, interested in fighting for an ISIS terrorist group, tried to board a freighter that a masked law enforcement officer said would take them to Yemen, at a port near New York City on Thursday. Arrested, prosecutor said.
According to prosecutors, James Bradley, 20, and Alwa Mutana, 29, were detained at the Gangplank at the Port Newark Elizabeth Marine Terminal in New Jersey. They were charged in conspiracy in federal court in Manhattan in an attempt to provide physical assistance to a designated foreign terrorist organization.
Bradley and Mutana appeared in the first court on Thursday and were ordered to be imprisoned without bail. A message asking for comment was left to the lawyer.
Manhattan's federal prosecutor, Audrey Strauss, said in a statement that the couple "plans to attack the United States have been thwarted."
Bradley of the Bronx expressed his support for ISIS and spoke of his desire to join an overseas group in a nearly year-long recorded conversation with an undercover investigator, the prosecutor said. Bradley also spoke to undercover agents who took him to the ship about the possibility of attacking the Army Academy in West Point, New York, the prosecutor said.
The complaint outlining the accusations against Bradley and Mutana does not mention that the defendant is discussing their intentions with ISIS or others beyond the two secret law enforcement officers.
The prosecution said Bradley, fearing he might have been on a terrorist watch list, called for freighters to transport him to the Middle East.
In 2019, Bradley planned to join the Taliban and travel to Afghanistan to attack American soldiers, but due to ideological differences with the one he was supposed to travel with. Time to change my mind.
Mutana, Alabama, also expressed support for ISIS and discussed plans to travel to the Middle East with Bradley to fight on behalf of the group, prosecutors said. After her arrest, she said she had relinquished her right to remain silent and was ready to fight and kill Americans, the prosecutor said.
The US-led coalition occupied the last territory owned by ISIS about two years ago, ending the self-declared caliphate that covered most of Iraq and Syria. Since then, the rest of the ISIS militants have sneaked underground in the border area between Syria and Iraq and have continued to revolt.
Mutana and Bradley got married in January.
After traveling to Alabama and visiting Mutana, the prosecutor said Bradley approached the undercover investigator in consideration of traveling by freighter to join ISIS. According to the prosecutor, police linked Bradley to a "facilitator" (another undercover investigator), who paid $ 1,000 in cash for travel expenses.
Bradley told prosecutors that he and Mutana had planned to "fight" when they arrived in Yemen and had a dream of loyalty to ISIS leader Abu Ibrahim al-Hashimi Alkreishi.