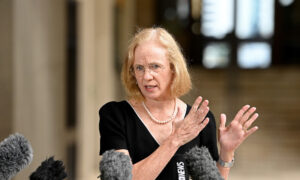 A COVID-19 woman who lifted the blockade in Victoria and moved north via New South Wales (NSW) called on Queensland after visiting parts of the state.
The woman and her husband left Victoria on June 1st, passed through New South Wales, and entered Queensland on June 5th in Goondy Windy.
The couple then traveled to various locations, including the Sunshine Coast.
Health Minister Ibet Das said a 44-year-old woman tested positive for the coronavirus on Tuesday and was confirmed on Wednesday.
She was staying in Caloundra with her family.
Janet Young, chief health officer, said the woman was interviewed but did not know why they left Victoria.
This was done a few weeks before the state's public health state of emergency was due to end on June 29 ().pdf). A public health emergency was first declared in Queensland on January 29, 2020 in response to the outbreak of the COVID-19 virus.
Public health emergencies empower Chief Health Officers to issue public health instructions to contain or respond to the spread of COVID-19 within the community.
Privileges are extended 6 times and last for over a year.
By Tracy Ferrier. Epoch Times reporter Cayden Pearson contributed to this report.