[ad_1]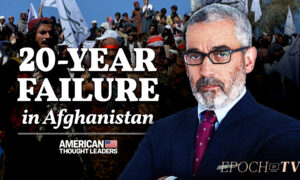 Lee Smith: The culmination of 20 years of failed Afghanistan withdrawal corruption and failed leadership
Afghanistan was "a 20-year lesson on how our leadership was corrupted," says journalist and Epoch Times columnist Lee Smith. In 2011, he wrote "Strong Horses: Clashes of Power, Politics, and Arab Civilizations".
"Did the United States go? [Afghanistan to] Do you impose gender studies throughout Central Asia? … Or did you go to give a job to a professor of gender studies? Smith asks.
Smith analyzes why he believes the US mission in Afghanistan has spiraled into a "giant offshore routing operation." And now, "the counterterrorism mission has been directed towards American citizens," he says.
Subscribe to American Thought Leaders Newsletter Never miss an episode.
You can also follow American ideological leaders parlor, Facebook, Also YouTube..If you want Donate To support our work, you can do so here..


[ad_2]