[ad_1]

The laboratory behind Australia's COVID-19 modeling states that after reaching vaccination goals, it will be easier to control the virus, and in Australia hundreds of daily cases of CCP virus are still expected. It warns that you need to be aware of the need for ongoing health measures. ..
The Melbourne-based Doherty Institute will follow Queensland and Western Australia leaders' agreed national cabinet plans to ease regulations after 70-80% of the population has been vaccinated. After publicly showing that he was reluctant to, he issued a statement.
"This level of vaccination, like other viruses such as the flu, makes it easier to live with the virus, but it is impossible to maintain a completely case-free situation," he said. He said the focus would be on hospitalization and medical care once the vaccination goals were achieved.
Doherty predicted that in Australia, 70% would have 385,983 symptomatic cases and 1,457 deaths in 6 months. However, optimal public health measures without blockades can further reduce that number to 2,737 cases and 13 deaths.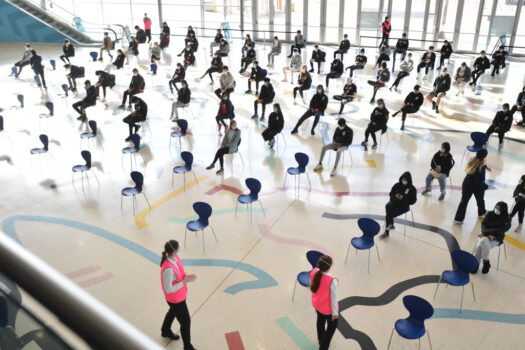 "We saw countries that had all their restrictions removed and learned that there was no'free day'," he said. Statement read.. "Several public health measures (testing, follow-up, quarantine, quarantine) need to be implemented to keep reproduction numbers below 1, but as immunization rates increase, they can be further mitigated. It's less likely. You'll need a generalized lockdown. "
The institute said the government would need to continue to control the virus through restrictions until the country reached the 70-80 percent vaccination mark. At the same time, public opinion about restrictions is beginning to boil, with thousands of Australians on the streets protesting the blockade of COVID over the weekend.
In late July, the National Cabinet, an intergovernmental organization involving the Prime Minister and state and territory leaders, agreed on a three-step immunization program based on Doherty's model.
With a 70% vaccination mark, the state enters Phase B, where the stay-at-home order and restrictions are lifted. When the 80% vaccination target is reached, Phase C will be triggered and the country will begin reopening its borders.
Still, last week, Western Australian Premier Mark Magawan showed that his government was likely to continue its zero-COVID strategy, with Phase C of the National Cabinet of Vaccine Deployment Strategy "a highly targeted blockade." Insisted that it made possible.
In addition, Queensland Prime Minister Anastasia Parasek called for a model update before promising to open the border. Previous studies did not consider high cases and assumed "about 30 cases in the community".
Dougherty's response on Monday was designed to alleviate this concern, emphasizing that even with thousands of incidents per day, the country can still relax.
Currently, Queensland and Western Australia have the lowest percentage of fully vaccinated residents, at 27.87% and 27.17%, respectively. The current national average is 30.27 percent.
Prime Minister Scott Morrison announced on Monday that state leaders would follow a roadmap for vaccination and publicly plea the blockade cycle.
"We shouldn't delay it. We need to be prepared. We must not be afraid of it, we must accept it and move forward together," he told reporters. ..
[ad_2]