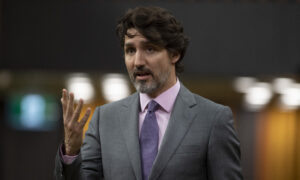 Prime Minister Justin Trudeau says the federal government and several Canadian provinces are working to dispatch health care workers and equipment as Ontario fights a record number of COVID-19s.
Trudeau said in today's video update that healthcare workers employed by government departments such as the Department of Defense and the Immigration Department will be relocated to Ontario, especially in the Greater Toronto Area.
The Prime Minister also spoke with the Prime Ministers of Newfoundland and Labrador, Prince Edward Island and Nova Scotia. They value the human resources and equipment that can be released in the next few days.
He also states that the federal government will work with cities in Ontario to deploy rapid inspections to the affected areas and bear the cost of transferring resources from other states that spare them.
His statement is due to record hospitalizations and intensive care unit admissions in Ontario, with over 4,200 new COVID-19 infections reported over the past 24 hours.
Prime Minister Doug Ford has announced some new restrictions to quell the surge in numbers, but faced pressure to lift restrictions on outdoor activities, critics rarely stop their spread. Stated.