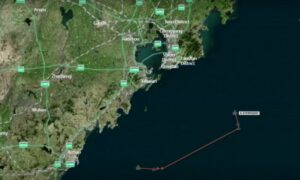 China's Shandong Maritime Agency said on Tuesday (April 27) that Tanker A Symphony, which carries about one million barrels of oil, spilled oil into the Yellow Sea.
The Suezmax tanker was last seen near Qingdao Port, as shown by Refinitiv Eikon's live shipping data.
The manager of the oil tanker Goodwood Ship Management told Reuters that the bulk carrier Sea Justice collided with the oil tanker A Symphony while anchored at the Qingdao berth in China.
The company added that the clash occurred around 08:50 local time on April 27.
"The impact force on the front port side ruptured the second port ballast tank and a large amount of oil spilled into the sea. Since then, all crew members have been described and have not been injured," the company said. Said in the email reply.
Data showed that the tanker last called at the Ringgit International Transshipment Hub near Malacca on the Malaysian Peninsula earlier this month.
Equasis data show that the 272 meter (892 ft) long and 46 meter (150 ft) wide oil tanker was sold to new owners Symphony Shipholding SA and NGM Energy in May 2019.
Goodwood Ship Management, technical manager of Symphony Shipholding SA, NGM Energy, and A Symphony, was not immediately asked for comment.
By Helena Williams and Malgorzata Wojtunik