Rev. Fred Nile, the founder and human rights defender of the Christian Democratic Party, will retire from politics in November.
A 40-year veteran of the New South Wales (NSW) Senate Senate has firmly supported Christianity and traditional family values ​​during his tenure.
"It was a privilege of my life to represent the values ​​of Christ in the Parliament of New South Wales on behalf of the citizens of this great state," he said in a statement.pdf).
Nile said the need for public discourse on Christian values ​​has "only increased" in recent years.
"What was called Silent Majority is getting louder," he told The Epoch Times. "People support traditional marriages, support the fetus, and oppose abortion."
"More people are making that decision publicly, so I'm very encouraged by this swell of support not only from Christians but also from moral people," he added.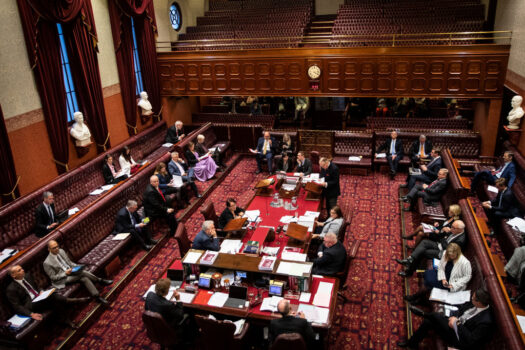 This sentiment is shared by Parliamentarian Mark Latham of one of New South Wales, who has re-entered politics to halt the influence of Australian cultural Marxism.
"Australia has been exposed to cultural aggression over the last two decades. Leftist ideas about cultural Marxism, identity politics, censorship and anger have rushed through our institutions at the rate of knots." Latham said. National Citizens Council Supper In 2018.
"If we do not stand up and fight these things, we will lose not only national values ​​and customs, but also the best traditions of our culture and Western civilization."
Lyle Shelton, former head of the Australian Christian Lobby, could replace Nile.
"I am honored that Rev. Nile and the Christian Democratic State Legislature have recommended that I take over in the New South Wales Parliament and lead the party into the future," Shelton said in a statement.
"In our parliament, Christian ethics and principles have never been needed more than ever."
The Nile opposes terrible human rights abuses abroad, including the Armenian Genocide, the crackdown on Christians in Turkey, and the persecution of Falun Gong.
Last year, the Nile celebrated its 21st anniversary since the persecution of Falun Gong by the Chinese Communist Party (CCP) began.
"What is happening to the Chinese people by their government?" Nile asked the online participants of the rally.
"I put a practitioner in jail, put him in slave labor, received an organ transplant from a living person who apparently died afterwards, killed his own citizens, and obtained human organs."
Falun GongAlso known as Falun Dafa, is an ancient Chinese spiritual practice consisting of slow-moving movements and moral teachings that incorporate the principles of truth, compassion, and tolerance.
Official estimates indicate that it became popular in the 1990s, with 70 to 100 million supporters in China by the end of the decade.
Feeling threatened by its popularity, the CCP began systematic persecution in July 1999, imprisoning millions and facing physical and psychological torture.