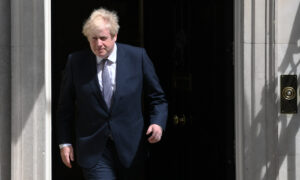 Boris Johnson's office said it would respect the rights of those who protest peacefully following the kneeling of the English football team before the Euro 2020 warm-up game last week.
Originally scheduled for last year, the tournament has been postponed for a year due to restrictions during the CCP (Chinese Communist Party) virus pandemic.
English players knelt before their first warm-up game with Austria on June 1st at Riverside Stadium in Middlesbrough. A big boo was heard among about 7,000 fans, but they were quickly drowned out by applause.
A similar incident occurred in December 2020, when approximately 2,000 Millwall FC fans booed a kneeling player at the start of a match against Derby County FC.
Kneeling is a gesture made by many celebrities, politicians, and professional athletes to support the Black Lives Matter movement after George Floyd's death in the United States.
The Prime Minister was asked if he believed that kneeling showed support for the political objectives of the Black Lives Matter movement.
"Especially when the Prime Minister kneels, he focuses more on action than on gestures. We are acting with committees on racial and ethnic disparities, etc., and he is focused on achieving that. "I will."
A spokesman also said Johnson "fully respects the rights of the people of this country to protest peacefully and communicate their feelings about injustice."
When asked if the Prime Minister refused to criticize his supporters of booing gestures, a spokesman said, "No … the Prime Minister is supporting the England national football team and wants their success. I hope the whole country will support that effort. This tournament. "
After last week's incident, England team manager Gareth Southgate said the gesture was a political position, not what he wanted to hear, as booing feels like a criticism of the team's black players. Instead, he said it was a gesture of support for each other …
Rep. Lee Anderson of Ashfield said: Facebook post The Football Association and the English football team "made a big mistake" announced Thursday.
"All forms of racism are vulgar and need to be eradicated, but this is not the way," Anderson writes.
"For the first time in my life, I have never seen my beloved British team support a political movement whose basic principle is to undermine our way of life," he wrote.