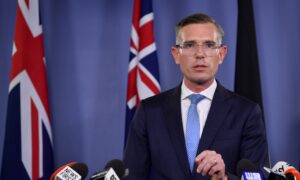 A major extension of Sydney's Metro Rail project, including a link to Sydney's new airport, is on track.
Always part of the New South Wales government's vision, the metro connection with the Sydney West Aerotropolis is one step closer to becoming a reality with the completion of other key sections of the network.
The government announced on Sunday that it would be embarking on a final business case for four routes: Tarawong to St. Mary's, Westmead to Aerotropolis, Bankstown to Glenfield via Liverpool and MacArthur to Aerotropolis.
This process directs government spending and helps determine which lines should be started first.
With Western Sydney International Airport set to open in 2026, the airport metro is jointly funded and provided by the federal and state governments.
Prime Minister Dominic Perrotet said the expansion would add a total of around 100 kilometers of track to the west of Sydney to the ongoing metro project.
"The Sydney Metro is Australia's largest public transport project and is already reshaping the city and changing the way we travel," he said.
"These new lines will complete a missing link in the Western Metro network, connect our cities in a way never before possible and will be a huge win for the people of Western Sydney."
Infrastructure, Cities and Transport Minister Rob Stokes said Aerotropolis' residential and business hub is transforming the Paddock into a thriving city around the future airport.
"Our ambition is to complete the metro network that we started when we first came into government," he said.
"By commencing this work now, we will lay a solid foundation for Aerotropolis to become one of Australia's most accessible cities for people by bike, car, plane and train, with a new airport, active Transport network, and connect to the world class subways and highways."
Opposition leader Chris Mings said existing metro projects are already billions of dollars over budget, adding that his party will unveil its own public transport plan for Western Sydney before the election.
"Many of the projects initiated by former Prime Minister Gladys Berejiklian are now effectively off track," he said.
"Right now, Perrottet is talking about the next iteration, but he doesn't explain how or why the costs associated with Metro West and Southwest Metro exploded."
Earlier this month, the final track was laid to connect the new Sydney Metro City and Southwest Line with Chatswood's existing Northwest Line.
Service from Chatswood to Sydenham is expected to begin in 2024, with services to Bankstown scheduled to begin the following year.