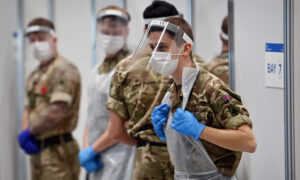 The UK Government will offer a free COVID-19 test to everyone in the UK twice a week starting April 9th, announced on Monday.
Department of Health (DHSC) Said This is a "significant step forward" that "paves the way for the resumption of businesses and society" as the ongoing blockade of the CCP (Chinese Communist Party) virus is gradually eased.
From April 9th, you can get a free quick coronavirus test twice a week.

Regaining our lost freedom and returning to the normal hinge depends on all of us being tested on a regular basis.https://t.co/4i53gOmykA

— Matt Hancock (@MattHancock) April 5, 2021
"The vaccine program continues to be well-developed and a roadmap is underway to carefully relax restrictions, so these efforts are regularly swift to ensure that they are not wasted," said Prime Minister Boris Johnson. Inspection is even more important. "
Health Minister Matt Hancock said one in three people infected with COVID-19 showed no symptoms, but could still be infectious.
"Regaining lost freedom and returning to normal depends on all of us taking regular tests," he said.
However, Allyson Pollock, a professor of public health at Newcastle University, told the era bulletin that "this is a very expensive, inconsistent policy, not a public health strategy."
The mass test uses an immunoflow device. This allows you to get results in less than 30 minutes without the need for laboratory testing.
Mass testing programs have been criticized by some medical professionals who are worried that the limited precision of the technology may be counterproductive, especially for self-administered testing.
According to a study by the British Medical Journal (BMJ), Liverpool pilots missed 60% of cases and 30% of cases with the highest viral load.
BMJ said in November 2020 editorial The program was "unrated, poorly designed, and costly confusion."
He added that the mass study program should not be continued or used as a basis for whether people should be self-isolated until it is scrutinized externally and independently.
Regarding false-positive results, the government said, "A recent analysis of the NHS Test and Trace shows that there is less than one false-positive result for every 1,000 transverse flow tests performed."
Lily Zhou and Simon Veazey contributed to this report.