The University of Hong Kong (HKU), the oldest public university in Hong Kong, ordered in 1989 to remove from the campus a statue that had long commemorated the victims of the Chinese Communist Party (CCP) Tiannanmen slaughter.
Called the "pillar of shame," this statue was created by the Danish sculptor Jensgarskio and has stood in college for over 20 years.
A 26-foot-high statue depicts 50 distressed faces and tortured bodies piled up on top of each other. Commemorating the people killed when the Chinese administration's army fired on unarmed democratization-promoting college students and Beijing citizens was the centerpiece of a candlelit warning in Hong Kong on June 4.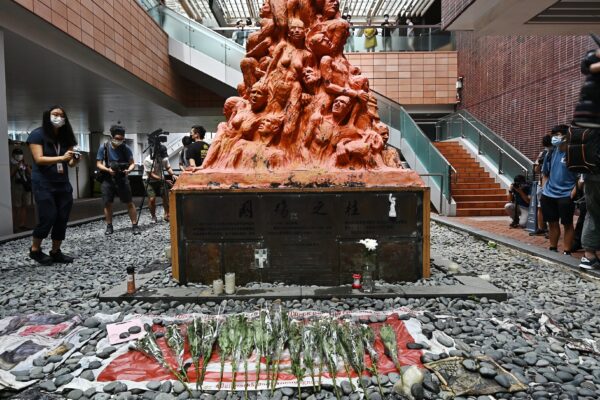 The city's huge annual Tiananmen alert recently collaborated with Garskiot, an alliance supporting the Chinese Communist Party's patriotic democratic movement, as pressure to silence political opposition to the Chinese Communist Party's rule in Hong Kong and China increased. The organizer has disbanded.
The Alliance is a democratization promotion organization established during the protests at Tiananmen Square. Some of its members were arrested under the so-called Hong Kong National Security Act imposed by Beijing. The alliance is currently in the process of liquidation.
The alliance liquidator receives a letter dated October 7 from the university's leading law firm, Mayer Brown, to remove the statue from the university grounds "by 5 pm on October 13, 2021." Asked the alliance.
The university stated that the decision was based on its own legal advice and risk assessment, but provided no further explanation. according to For media coverage.
If the alliance does not remove the statue by the deadline, the statue will be considered abandoned and the letter states that "the university will process the statue at that time in a manner deemed appropriate without notice." , Art net news..
Garskiot sees this action as an attack on freedom of expression through his art and an attempt to erase history.
"They really want to destroy everything about stories that China doesn't want people to know," Galschiøt told Artnet News.