British Prime Minister Boris Johnson denied that the government deviated from scientific advice in deciding to lift all COVID-19 restrictions in the UK.
Johnson announced his plan to "live with COVID" on Monday, abolishing the last legal restriction requiring self-quarantine for those who test positive for the CCP (Chinese Communist Party) virus.
But at a press conference on Downing Street after the announcement, UK chief medical officer Chris Whitty said people should be quarantined even if they are infected with the virus.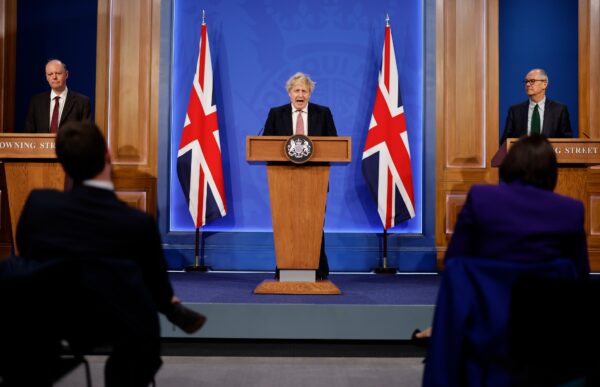 Whitty said the waves of Omicron are "still high," and "public health advice" says, "If people have a COVID, they should try to prevent others from getting it. And that means self-isolation. "
Sir Patrick Valence, Chief Scientific Adviser of the Government, said COVID-19 will continue to evolve over the next few years and there is no guarantee that future variants will be less serious.
"I don't want to make you think that there is a division between GungHo's politicians and cautious and uneasy scientists that everyone deserves to say," he said in a press conference.
He said the government had a "very clear view" of the situation and admitted that the pandemic had "not disappeared."
He said the government could make these changes "for vaccines and high levels of immunity" and that the Omicron variant was less toxic.
Johnson said there could be "another variant that causes us problems", but "thanks to much of what we have done, especially the investment in vaccines and vaccine technology and therapies. , We will be far away ", a better position to work on that new variant. "
Opposition parties have expressed concern that the decision is not based on scientific advice.
Labor leader Sir Kiel Starmer said his party didn't want restrictions "for longer than necessary", but "we have to take the general public." It must not be. "
He told the House of Commons: Not enough to prepare for new variants that may still be developed. Living with COVID is an approach that seems to think it simply means ignoring it. "
However, the Prime Minister said there was sufficient scientific evidence to support the decision to end the restrictions on COVID-19.
"There is plenty of evidence of what we are doing today in the scientific evidence, the infection rate numbers I outlined today, and all the data freely available to House members," he said. ..
PA Media contributed to this report.