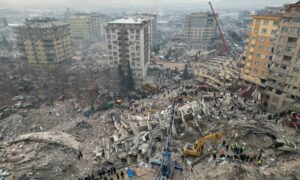 Three Australians are believed to have died in devastating earthquakes that hit Turkey and Syria, and the disaster's toll continues to rise.
The Ministry of Foreign Affairs and Trade announced on February 11 that the remains of an Australian man and an Australian woman have been identified by relatives in Turkey.
The man has been identified as Melbourne's grandfather Suat Byram, but the woman's name has not been released.
"We lost our beloved father and grandfather," Byram's relative Ebul Hudaverdi posted on social media.
"Our pain is immeasurable."
Earlier this week, it was reported that the body of Sydney man Kang Pahari was found in the rubble, but local authorities have yet to confirm his death.
The department supports all three families.
About 80 Australians who were in the earthquake-affected areas are now receiving assistance from Australia in Turkey and Lebanon.
Diplomatic missions in Ankara, Istanbul and Beirut continue to try to contact Australians believed to be in the region.
On Friday, Foreign Minister Penny Wong expressed sympathy to all families awaiting news from the region about their loved ones.
More than 70 emergency services personnel flew into the earthquake zone to assist in rescue and recovery efforts.
The death toll has exceeded 22,000 and is expected to rise as more bodies are discovered.
A magnitude 7.8 earthquake struck Turkey's southern province of Kahramanmaras on February 6, devastating parts of neighboring Syria.
Rescue teams are racing against time to find more survivors. The situation has plummeted to -10 degrees.