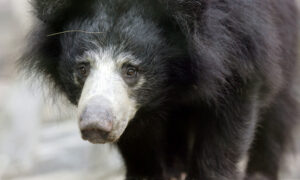 BRUSSELS – Belgian newspaper SudInfo reported on Monday that three sloth bears had died of a cold after being left on a plane stranded in snow and ice at Liège airport.
A total of nine sloth bears were on board a flight from Peru to Qatar, according to SudInfo, which got stuck in transit at Liege airport in Grace Ologne, Belgium.
"We will look at what the liability is and what sanctions should be taken in light of it," Céline Tellier, Wallonia's minister for animal welfare, told Bel-RTL radio.
Sloth bears, also known as bees or 'lippus', are listed as endangered on the International Union for Conservation of Nature's (IUCN) Red List of Threatened Species. They are often captured for training as dancing bears.
Marine Strauss