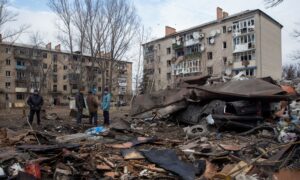 KOSTYANTINIVKA, Ukraine—Three people were killed Saturday in a Russian attack in a residential area of ​​the eastern Ukraine city of Kostyantinivka, the regional governor said.
Donetsk governor Pablo Kirilenko said 14 other people were injured in the attack, as well as four apartment buildings and a hotel.
"Rescue services and law enforcement officers are helping people at the scene of the tragedy and carefully documenting another crime on our land by the Russian occupiers," he wrote on Telegram.
Burnt remnants of twisted metal and household items and at least one car littered the courtyard as rescuers attempted to clear the debris. Fresh blood stains were also seen.
Earlier on Saturday, Kirilenko said at least four people were killed and seven wounded across the region in Russian attacks over the past 24 hours.
President Volodymyr Zelensky said on Friday that the situation at the front remained "very serious", especially in the Donetsk region, where Russia has stepped up its offensive.
Moscow invaded Ukraine last February, but fighting has slowed to a war of attrition in recent weeks, with neither side making significant gains.
Kyiv has repeatedly warned that Russian forces will attempt to mount another offensive in the coming weeks or months.