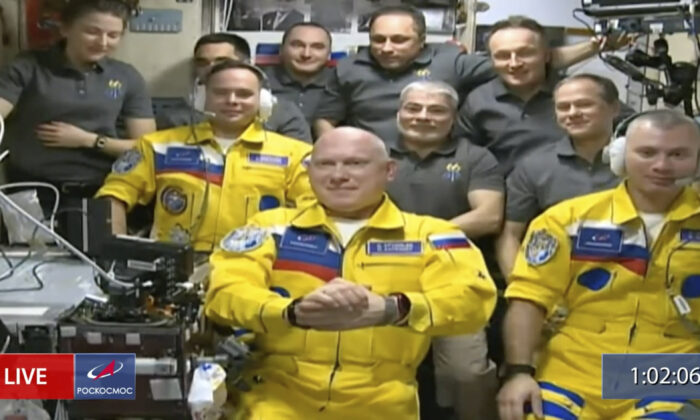 Russian astronauts Sergei Korsakov, Oleg Artemyev, and Denis Matveyev grabbed this frame grab from video at a welcoming ceremony after their arrival on March 18, 2022 at the International Space Station. (via Roscosmos AP)
MOSCOW—Three Russian cosmonauts returned safely from a mission to the International Space Station on Thursday.
The Soyuz MS-21 spacecraft carrying Oleg Artemyev, Denis Matveyev, and Sergey Korsakov landed at 4:57 p.m. We landed quietly at 1057 GMT. Jezkazgan.
The trio arrived at the station in March. For Artemyev, the mission was his third space flight, bringing his total time spent in orbit to 561 days. Matveev and Korsakov each scored his 195th on the first mission.
As the Soyuz capsule descended under clear skies in a large red-and-white-striped parachute, Artemyev reported to mission control that the entire crew was in good health.
A helicopter support team landed a few minutes later to retrieve the crew. After a brief post-flight medical examination, the cosmonauts will be airlifted to the StarCity Cosmonaut Training Center outside Moscow later in the day.
The station is currently operated by European Space Agency Samantha Cristoforetti, NASA astronauts Bob Hynes, Sher Lindgren, Frank Rubio, and Jessica Watkins, and Russian Space Agency Roscosmos astronauts Sergei Prokopiev and Dmitri Peterin. increase.