[ad_1]

Sen. Tom Cotton, a prominent Republican and member of the Senate Armed Services Committee, said Thursday that Ukraine's victory in the ongoing war would ultimately come in the form of "peace through negotiation." Stated.
In January, Cotton letter He urged President Biden to provide the Ukrainian military with more advanced weapons, empowering the country to "drive out Russian aggressors, retake its sovereign territory, and win this war." Speaking at the National Review Institute's Ideas Summit this week, senators made it clear that while a short-term military victory is important, negotiations are in the late stages.
"From Ukraine's point of view, the final victory is a kind of negotiated peace," he said. "If Ukraine has enough success on the battlefield, that's how we can negotiate at the table."
In Cotton's view, the path to de-escalation in Ukraine would be achieved through escalation.
The key to achieving such a solution, he stressed, is "to make Putin sufficiently afraid of losing more territory and being at a disadvantage on the battlefield than at the negotiating table." bottom.
"We cannot force the nuclear-weapon states to shut up and negotiate," said Cotton. "But we can put them on the back burner enough that they perceive it as a bargaining gain."
Despite his support for a settlement, the senator said he would not speculate on the specific terms of a negotiated settlement, saying "it's up to Volodymyr Zelensky and the Ukrainian people."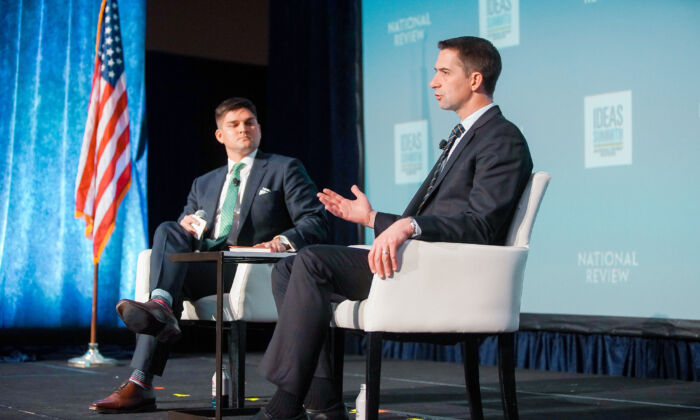 Republicans split on foreign policy
The Republican position on whether to continue funding the Ukrainian army is still in dispute.
In December, Rep. Thomas Massey (R, Kentucky) voted against U.S. involvement in the war since the war began, but remittances of taxes abroad are a beneficial policy. I objected to the idea.
"It's not charity. Charity will be given gratuitously," he said. I have written on Twitter. "American taxpayers are being drafted into making welfare payments to this foreign government."
Cotton has been highly critical of the Biden administration's foreign policy, accusing the president of being weak in its handling of last week's Iran-backed drone strike that killed a U.S. contractor.
"They killed an American and wounded five on Thursday morning," he said. "We hit back. Mostly empty buildings. Thursday night."
according to The president's Thursday night strike killed at least 19 people — a mix of Iranians and Syrians, according to war monitors.
Senator Cotton did not respond to a request for comment.


[ad_2]