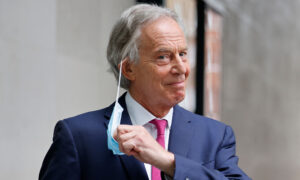 Former British Prime Minister Tony Blair said people who received the COVID-19 vaccine should regain more freedom than those who did not.
A week before the UK government makes the final decision on whether to proceed with a plan to remove all legal restrictions introduced to curb the spread of the CCP (Chinese Communist Party) virus that causes COVID-19. Illness on June 21st.
Since March 2020, most governments around the world have imposed unprecedented restrictions on people's mobility, social interaction, and protests to curb the spread of the CCP virus.
The UK's first national lockdown began on March 20, 2020 and was ordered to close schools and public facilities.
Secretary of Health Matt Hancock was asked if the government would delay deregulation if the Delta (India) variant of the CCP virus "worsened" at the BBC's Andrew Marr Show on Sunday. He said the options were "absolutely open."
Blair said in the show that people who have been vaccinated against the new coronavirus and those who have not been vaccinated should be distinguished both domestically and internationally.
Former Prime Minister was talking paper The statement, released Sunday by the Tony Blair Institute for Global Change, calls for "a globally interoperable health path system that can be used by both border authorities and other organizations in the country."
"The treatise we publish today states that we really need to distinguish between vaccinated and unvaccinated patients," Blair said.
"Therefore, in both countries here, if pressure from new variants needs to adjust some of the freedom, at least those who are vaccinated will ensure maximum freedom. It's important to be able to get it. I think it can be done on a trip as well. "
When asked if he was willing to decline the vaccine, Blair replied, "Unless there is good medical reason, my view is clearly negative," giving people "the real motivation for vaccination." He added that it is important to give.
The new treatise calls for companies and organizations to operate without restrictions if the government restricts admission to those who have been completely vaccinated or have recently undergone a negative lateral flow test.
When asked if this would create a discriminatory "two-tiered society of vaccinated and unvaccinated," Blair said the word "discrimination" overlapped, but "when it comes to risk management, it's all. It's a matter of discrimination. "