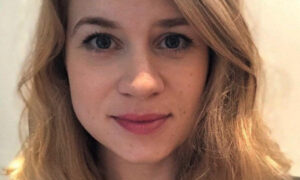 The Met Police officer accused of the kidnapping and murder of Sarah Everard is to go on trial in October after the date was set during a court hearing today at the Old Bailey in London.
A provisional trial date for Wayne Couzens, 48, who is a serving officer, has been set for Oct. 25 according to the Met police.
He is next due in court on July 9 for a plea hearing.
Everard, 33, went missing as she walked home from a friend's house near Clapham Common on March 3.
Her body was found several days later in Kent, some 50 miles away.
Couzens, who works in the diplomatic protection unit, appeared via videolink from prison on March 16.
He made no application for bail.
According to the Met police, a woman in her 30s who was arrested on suspicion of assisting an offender, has been released on bail to return to a police station on a date in mid-April.
In response to Everard's kidnapping and murder, a vigil was organised to take place on Clapham Common at the weekend near her home. That was canceled after police said it could not go ahead due to current lockdown laws.
Championed by activists who have long campaigned on the issue of male violence against women, an unofficial gathering went ahead on Saturday night despite the warning that it would be in violation of lockdown laws.
Police broke up that gathering using force.
The policing of the event has come under criticism, with some calling for the resignation of the head of the Met Police, Cressida Dick.
Home Secretary Priti Patel has set up a public inquiry into the policing of the event.
Boris Johnson on Sunday said he was "deeply concerned" over footage of the event but gave his support to the beleaguered police chief.
The government has promised more money for better street lighting and to pilot schemes where plain clothes officers would visit pubs and clubs to "identify predatory and suspicious offenders."
"The horrific case of Sarah Everard has unleashed a wave of feeling about women not feeling safe at night," Johnson said yesterday. "We must do everything we can to ensure our streets are safe."
Some people have accused campaigners of hijacking the death of Everard to push their own feminist agendas.
A friend of Everard, Helena Edwards said that she first looked forward to the vigil, then changed her mind.
"It is not a tribute to her any more, it's about something else," she wrote in Spiked-Online.
"Her abduction and murder is not, in my opinion, a symptom of a sexist, dangerous society. When something awful like this happens there is a rush to look for reasons and apportion blame," she wrote. "If the suspect police officer in custody is eventually tried and found guilty of her murder, then I will hold him alone responsible. "
Reuters contributed to this report.