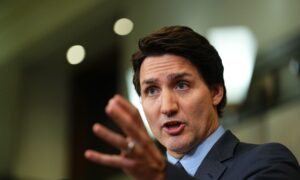 Canadians want "real answers, not political games," Prime Minister Justin Trudeau said of an ongoing investigation into reports of China's interference in Canada's last two federal elections.
Prime Minister Trudeau Press conference Joined Premier Andrew Fury at Bonavista Burin Trinity, Newfoundland and Labrador.
Reporters asked Prime Minister Trudeau about an ongoing investigation into election interference by the Chinese government. The prime minister had previously acknowledged the outbreak, but he said it did not affect the election results.
Prime Minister Trudeau told reporters on March 15, "It is natural that the Canadian people are very concerned about China's interference in our institutions, our democracy and our elections." added that it has introduced Prevent interference from affecting Canadian elections.
The reporter also asked Prime Minister Trudeau about blocking a protest before a House of Representatives committee to force Trudeau's chief of staff, Katie Telford, to testify before the committee.
Trudeau said some politicians "think that the best way to solve this very serious problem is to raise the level of partisanship".
"What Canadians want are real answers, not political games. That's exactly what we offer," he said in French.
delay in voting
Despite majority support from all Conservative, Bloc Quebec and NDP members of the Commons Standing Committee on Procedure and House Affairs for Telford to testify, the committee's liberal MPs said on 14 March delayed voting on the motion by almost a full day.
On the same day, Conservative Party leader Pierre Polivre said that Mr Trudeau was "for refusing to answer questions about knowing that Beijing had intervened to help him in two consecutive elections. aroused a lot of suspicion," he said.
Polivre added that it was an "acknowledged fact" that leaked intelligence documents showed Beijing moving toward the election of President Trudeau.
All opposition parties have also called on the prime minister to launch a public inquiry into foreign election interference, but Trudeau refused, instead appointing a special rapporteur on the matter.
Bloc Québecois leader Yves-François Blanchet wrote a letter to Trudeau published March 14, again calling on the prime minister to launch a public inquiry, which would be the only way to restore public trust in the federal government. said to be a method.
"It is not the reporter's job to decide whether an investigation is necessary," Blanchet wrote.
Noé Chartier contributed to this report.