[ad_1]

Commentary
From afar in Kigali, the capital of Rwanda, the Prime Minister of Canada swiftly responded to the decision of the US Supreme Court in Washington. He, of course, responded even more quickly than some American politicians whose decisions were actually relevant.
I know it's verbose and unnecessary, and I've said it before, but this point is still underlined. Almost all Canadians know that the Supreme Court's decision is not Canadian law. Also be aware that Canada has its own Supreme Court. Only our Prime Minister does not seem to pay much attention to this important difference. He was everywhere in the same US court when the issue of the June 24 decision on the very famous Roe v. Wade case was simply "leaked" a few weeks ago.
He wasn't just quick. For our closest neighbor and commenting on the judicial system of the most powerful country on the planet (Mr. Biden is doing everything he can to lose his position, but nevertheless). Trudeau also made him gentle, if not aggressively inflamed.
Politicians in one country are usually separated from the politics of another. Often abused, it's a wise practice (Obama in support of Trudeau A good / bad example in our election. Each country has its own problems and has its own jealous jurisdiction. Getting lost in the thoughts and determinations of other Supreme Courts, especially our closest allies, is, in principle, terribly off the line.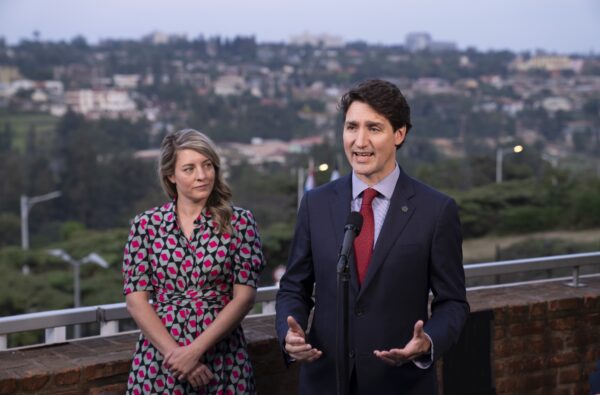 Inflammatory? Well, it certainly deserves to call the overthrow of the Roe v. Wade court court "terrifying." Who are you scared of? Well, certainly to those who are most enthusiastic about the cause of abortion. And they have the right to call it such and are the citizens who feel its influence. But is it "terrifying" for those of the same strength who oppose abortion? Obviously not. As all true progressives claim, this issue is not the only axiomatic right.
Therefore, the Prime Minister's comments were not limited to unjustified intrusion into the constitutional practices of other countries. It was also biased, more precisely partisan. Mr Trudeau solemnly sympathized (on one side) as if he were talking to his citizens. "My heart is directed at millions of American women," he says. Said on twitter.. "I can't imagine the fear and anger you're feeling right now."
This has a formal, subtle, almost Bill Clinton-level development of "I feel your pain." However, there are other factors that are more annoying than that.
It is clear that the court's abortion decision stirs the hottest politics and the strongest reaction, which is already clear from some Democrats. Even before the decision was published, a group of abortion activists sent mobs to protest at the homes of some judges. A man with a knife and gun declaring "I want to kill a judge in a particular Supreme Court" was arrested outside Judge Kavanaugh's house just two weeks ago. After the ruling, police stations in major US cities were monitoring radical groups in preparation for potential violent protests.
In other words, this is not a problem that requires additional "stimulation" from anyone. This is not a problem for already stimulating high emotions. The story and expectations of violence are already in the spotlight. This is one of all US Supreme Court decisions that require foreign leaders to stay away, except for calmness and reason.
And, really importantly, aren't there enough issues of Canadian origin, or Canadian concerns, that are under Canadian jurisdiction and are susceptible to amendments by the Government of Canada for the Prime Minister to attend? He actually made a US court decision much faster than many of the issues he was responsible for.
How about fixing the embarrassing passport mess? Canadian citizens seeking to update or obtain the most important civil documents line up at 1 am in some cities, letting their tents stay overnight and keeping their place in tremendous lines. It is a purely incompetent scandal in the modern nation of the 21st century. Pearson Airport is a mess and "hell", as one visitor explained exactly. It may take longer to get out of Pearson than to renew your passport.
Inflation is rising tremendously. Food prices are jumping higher than they were a few years ago. The basic commodities gasoline and fuel are at their highest level since the oil crisis of the 1970s. And, of course, there is the issue of "interference" with the police. The PMO and some ministers allege urged the RCMP Commissioner to direct Halifax investigators on the horrific mass murders since last year. This followed the unjustified and unexplained declaration of the Emergency Law, which involved the foreclosure of bank accounts and the vast invasion of basic civil liberties. Need to mention the huge deficit and our crazy trillion dollar government bonds? Or is it a truly dire state of our economy following two years of mismanaged COVID regimes?
If Mr Trudeau wants to provide suggestions on the issue, there are buckets of them on his desk. What he manages. The problem that he is either an instigator or a subject.
There is no need to parade from Kigali his generous concerns about abortion as required by US law. Does he prefer to distract from what he can and should do by borrowing (if that is the term) or by harnessing the passion surrounding the problems of other countries? It's much easier to moralize or pretend to be an American problem than to run and fix a real problem at his home.
In a sense, and in a sense, politics is like charity. It starts at home. And it certainly has to stay there, unlike charities.
The views expressed in this article are those of the author and do not necessarily reflect the views of The Epoch Times.
[ad_2]