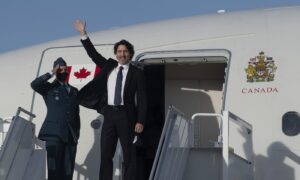 Prime Minister Justin Trudeau will travel to the Bahamas next week to meet with ministers from 20 Caribbean governments.
According to a release from Trudeau's office, Trudeau will be in Nassau on February 15 and 16 as a special guest at the 44th Caribbean Community Summit, called CARICOM.
The statement said Haiti will be a key topic of discussion as leaders grapple with how to help a country plagued by political instability and rising gang violence.
Hundreds of people have been murdered or kidnapped by gangs filling the power vacuum in Haiti, where elections have not been held since before the COVID-19 pandemic.
The Haitian government is seeking international military help to stabilize the country, and US officials say Canada is the ideal choice to lead such a force, but Trudeau said Ottawa He said he would only act on the political consensus of the Haitian people.
Canada announced last week that it had sent long-range patrol planes to Haiti to monitor gang activity, coordinate deliveries of critical security equipment and provide humanitarian assistance.