A submarine volcano off Tonga erupted on Saturday, issuing tsunami warnings to several island nations in the South Pacific, and social media footage showing waves rushing home.
Tsunamis were observed in the capitals of Tonga and American Samoa, according to a US-based tsunami monitor.
According to the Bureau of Meteorology, the eruption of the Hunga Tonga-Hunga Haapai submarine volcano, located about 65 km (40 miles) north of Nuku'alofa, caused a 1.2-meter tsunami.
Authorities continued to monitor the situation, but said there were no tsunami threats to mainland Australia, the islands, or the territory.
According to the Pacific Tsunami Warning Center, a 2.7-foot (83 cm) tsunami was observed on the gauge in Nuku'alofa, the capital of Tonga, and a 2-foot tsunami was observed in Pago Pago, the capital of American Samoa.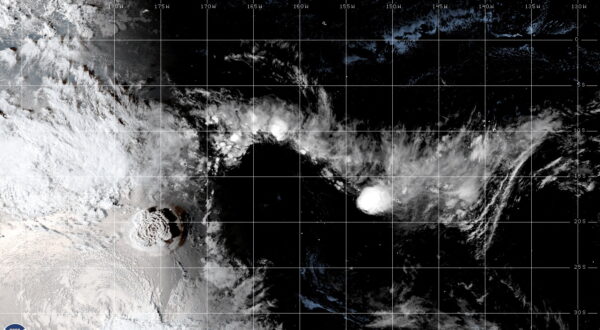 U.S.-based monitors later canceled warnings to American Samoa and Hawaii's U.S. territory, but said the tsunami remained a threat to parts of the Pacific Ocean near the volcano.
Fiji issued a tsunami warning, urging residents to avoid the coastline "due to strong tides and dangerous waves."
Fiji One TV reporter Jese Tuisinu posted a video on Twitter showing a big wave rushing to the shore and people trying to escape the looming waves in their cars. "It's literally dark in some parts of Tonga, and people are rushing safely after the eruption," he said.
The Federal Emergency Management Agency of New Zealand has issued recommendations for its north and east coast tsunami activities. Strong anomalous tides and unpredictable coastal surges are expected in the region.
On Friday, the volcano sent up to 20 km (12 miles) of ash, steam, and gas into the air, Tonga Geological Services said in a Facebook post. The radius is 260 km (160 miles).
By Jahnavi Nidumolu and Renju Jose