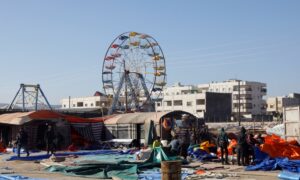 Antakya, Turkey—Omran Alswed and his family are living in a makeshift shelter after being unable to find a place to set up an official camp some three weeks after a devastating earthquake in southern Turkey.
Nearly two million people displaced by the quake are being held in tents, container houses and other facilities, Turkish officials say, but Alswed, 25, said he has been living with his extended family. said it had not yet benefited.
"Our house is badly damaged, so we took refuge in a neighbor's garden," said Arswed, who studied nursing at Siirut University in southeastern Turkey.
"The biggest problem is the tents. It's been 19 days and they haven't delivered a single tent. I applied for a tent camp, but they said the nearby camp was full," said a makeshift shelter near Antakya city. On earth he spoke.
Alswed, one of 60 Syrians, including at least 12 young children, by the road to the town of Reyhanli, consists of plastic sheets, blankets, bricks and concrete blocks from a damaged building. was staying in 11 shelters.
He was speaking after Turkey's Disaster and Emergency Administration (AFAD) announced overnight that the death toll in Turkey had risen to 44,218, bringing the total toll, including Syria, to 50,000.
AFAD said more than 335,000 tents have been erected in Turkey's seismic zone and 130 container home settlements have been set up. Nearly 530,000 people were also evacuated from the earthquake zone.
Mr Alswed spoke about their situation, calling official phone numbers and asking AFAD and other aid groups to provide tents, and that a small NGO was helping the children with canned goods, toilet paper and some food. said he brought a toy for
Outside Antakya, on the road to the town of Kirikan, a woman named Ayse was staying in a greenhouse by a damaged house after authorities told her there were no tents available.
"We didn't get a tent, but there are people in worse situations than us, so I'd like them to get it first. At least we have a greenhouse. I'm the kids." I brought you here," she said, and her husband pulled out a sofa from the house for the children to sleep on.
"I was told they have supplies but no tents for now. We are waiting."
Ace Toxabai