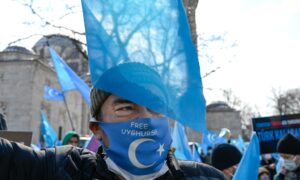 Ankara-Turkey called the Chinese ambassador on Tuesday after the embassy said it "has the right to respond" to opposition leaders who criticized the Chinese administration's treatment of Uighur Muslims 30 years ago.
Politician IYI leader Meral Accenner and Mayor Ankara Mansour Yabas commemorated the 31st anniversary of a short Uighur uprising against the government in the far west of China.
"I'm not silent about their persecution," Aksener said on Twitter about martyrdom. "We are still in the pain of the slaughter," Yavas said in 1990.
Ambassador Liu Xiaohama was summoned to the ministry after the embassy tweeted a statement.
"The Chinese side has categorically opposed and strongly condemned those in power who somehow challenged China's sovereignty and territorial integrity." "The Chinese side reserves the corresponding legitimate rights."
Many of Turkey's 40,000 Uighurs have criticized the government's approach to Beijing after the Chinese administration approved an extradition treaty in December.
Hundreds of people protested when the Chinese foreign minister visited Ankara last month.
UN experts estimate that at least one million Uighurs and other Muslims are being detained at the detention center in Xinjiang Uighur Autonomous Region in northwestern China. The United States said in January that the Chinese administration had committed "crimes against humanity and slaughter" by suppressing Uighurs.
Aksener and Yavas are considered potential rivals of President Tayyip Erdogan in the upcoming elections in 2023.
By Yesim Dikmen and Tuvan Gumlukcu