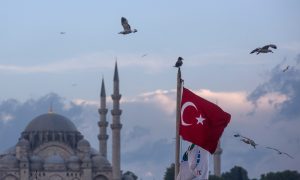 Turkey's Foreign Minister summoned the US ambassador to Ankara on Saturday to protest President Joe Biden's decision to designate the Ottoman killing and deportation of Armenians as a genocide.
US Ambassador to the United States David Satterfield met with Turkey's Deputy Foreign Minister Sedat Önal late Saturday and was accused of Ankara.
"This statement has no legal basis in terms of international law, has hurt the Turkish people and has opened a wound that is difficult to correct in our relations," said the Turkish Ministry of Foreign Affairs.
Early on Saturday, Biden carried out the promise of the campaign and recognized the killing of an estimated 1.5 million Armenian Armenians in the Ottoman Empire, which began in 1915, as a genocide.
"We see the pain. We check history. We don't blame this, but to make sure that what happened never happens again," Biden said in a statement. As mentioned in, it did not include a reference to Turkey.
Biden issued a statement on April 24, 1915, the anniversary of the Ottoman Empire's arrival of Armenian intellectuals and community leaders in Constantinople.
Biden's statement prompted a statement of condemnation from Turkish authorities. Turkish President Recep Tayyip Erdogan has not yet addressed this issue.
Turkey said it had killed both Turks and Armenians in World War I combat, refused to use the word "genocide" and called for a joint history committee to investigate. The President of the United States has avoided the use of the word "genocide" for years.
This announcement is made when Turkey-US relations are suffering from many problems. After NATO members purchased a Russian-made S400 defense system, the United States sanctioned Turkey's defense authorities and expelled Turkey from the fighter program.
Ankara is dissatisfied with Washington's support for Syrian Kurdish fighters in connection with the rebellion that Turkey has fought for decades. Turkey also demanded the delivery of Turkish priest Fetofullaguren, who was accused of organizing a bloody coup attempt against the Erdogan administration in 2016. Gulen lives in the United States and denies involvement.
Erdogan and Biden spoke on the phone on Friday for the first time since the 2020 elections.
Presidential spokesman Ibrahim Karin wrote on Twitter on Sunday: It's a shame that @POTUS took an irresponsible and irresponsible position, especially ignoring this simple fact. "
The Associated Press contributed to this report.