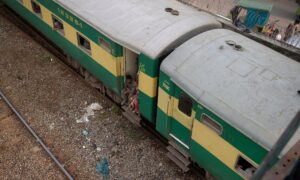 Multan, Pakistan — Officials said more than 30 passengers were killed in a collision between two express trains in southern Pakistan early Monday morning.
Fifteen to twenty passengers are still trapped in the wreckage of the Millat Express train, and authorities are trying to arrange heavy equipment to rescue those screaming for help, in the Ghotki district of Sindh. Police chief Umar Tufail said. The collision occurred before dawn.
The Millat Express derailed and soon after the Sir Syed Express train collided, said Usman Abdullah, Deputy Secretary of Ghotki. The cause of the derailment and subsequent collisions was not immediately clear.
"Currently, our challenge is to quickly rescue passengers who are still trapped in the wreckage," he said.
Abdullah said 30 people had died so far. According to railroad officials, the two trains had about 1,100 passengers and arrangements were made to help the surviving passengers.
According to local media, some passengers were on the Mirat Express to attend the wedding reception, but it is not clear if they were killed or injured.
Television footage showed an ambulance carrying an injured passenger to the hospital. Approximately four hours after the crash, heavy equipment had not arrived at the scene, according to a Pakistani television station.
Pakistani railroad officials ordered an investigation, but said rescue operations were still underway.
Some of the injured passengers were listed as critically ill at the hospital.
Authorities said the troops had also arrived at the scene of the accident to participate in rescue operations.
Malik Aslam, a local villager, told Geo News TV in Pakistan that about 100 people were injured and at least 30 passengers were killed during rescue and restoration operations.
There are many train accidents in Pakistan, and successive governments have paid little attention to improving poorly maintained signal systems and dilapidated railroad tracks.
In 1990, a packed passenger rushed into a stopped freight train in southern Pakistan, killing 210 people in the worst railroad accident in Pakistan's history.
By Asim Tanveer and Munir Ahmed