[ad_1]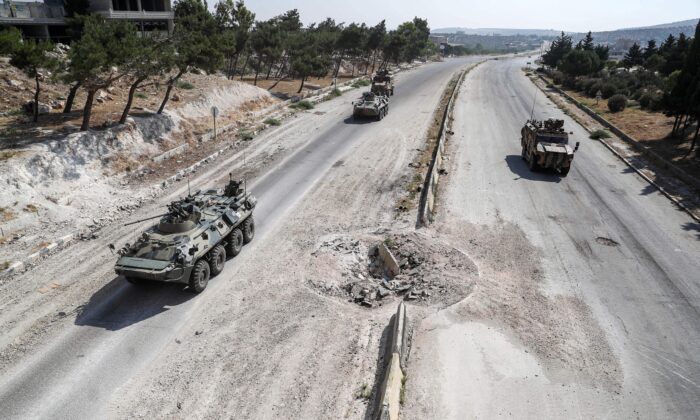 Russian and Turkish military armored vehicles and armored personnel carriers will launch an M4 high speed on July 7, 2020, connecting Aleppo and Latakia in northern Syria near Ariha in northwestern Syria, dominated by Syrian rebels. Drive together on a joint patrol along the road. Omar Haj Kadour / AFP via Getty Images)
Istanbul-Turkish Defense Ministry said on Sunday that an attack in northern Syria killed two Turkish soldiers and injured two others.
The ministry wrote on Twitter that a Turkish armored vehicle was attacked. The assault occurred on Saturday in the so-called Euphrates Shield region, which consists of the region between the Turkish border and northern Aleppo, including the towns of Jarables and Al Bab.
The ministry said it had attacked "terrorist" targets in retaliation. The Syrian Observatory for Human Rights, based in the United Kingdom, said dozens of Turkish rockets were launched in northern Aleppo with no reports of injuries. But Turkey said seven fighters had been "neutralized."
The statement did not say who attacked the soldiers, but called them "terrorists." Turkey has fought against the Syrian Kurdish People's Protection Units, or YPG. Turkey considers them an extension of the Kurdish group that has rebelled in Turkey for decades.
Turkey launched its first cross-border operation to Syria in the summer of 2016 with the aim of clearing out ISIS terrorist groups after several deadly bombings in Turkey. This operation was called the Euphrates Shield. Turkey carried out three other operations in northern Syria, the majority of which were to fight the YPG.
Turkey is furious with US support for the Syrian Kurdish fighters that formed the backbone of the troops that fought ISIS.
[ad_2]