[ad_1]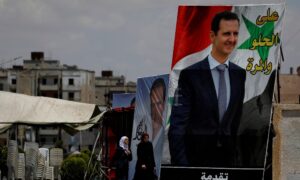 Washington — The United States said Wednesday that it had imposed sanctions on eight prisons operated by Syrian intelligence agencies. Some of them appeared in graphic images by a former Syrian military photographer, codenamed "Caesar," which indicates brutal torture.
The Treasury also explained to the five Syrian officials who commanded the prison, the Syrian armed rebel group Ahrar al-Sharqiya and two of their leaders, who were responsible for human rights abuses in the country's decade of civil war. I imposed sanctions to try to detain him.
"Many of the prisons designated today are highlighted in photos provided by Caesar, a North Korean defector of the Syrian regime who worked as an official photographer for the Syrian army and exposed the administration's ruthless and cruel detainee treatment. "It was," said US Secretary of State Antony Blinken.
"Today's actions … aim to promote accountability for the Assad regime's abuse," he added, adding that the brutal suppression of mostly peaceful protests in early 2011 unleashed the country's civil war in Syria. Mentioned President Bashar al-Assad.
Thousands of photographs taken by Caesar (some showing gouging, strangulation, and long-term hunger) were smuggled from Syria between 2011 and mid-2013.
In a statement announcing sanctions, the Treasury said the prison was "a scene of human rights abuses against political prisoners and other detainees."
Ahrar al-Sharqiya also accused several crimes against civilians, especially Kurds in Syria, including unlawful killings, "abduction, torture and seizure of private property."
As a result of this proceeding, all assets of Target under US jurisdiction have been blocked and Americans are generally prohibited from handling them.
In another statement, the Treasury announced a Turkish-based al-Qaeda financial facilitator who effectively supported terrorist groups and a Syria-based terrorist who provided physical support to Hayat Taharir Al-Sham (HTS). He said he had imposed sanctions on the fundraiser and one recruiter. Another terrorist group.
These sanctions not only block assets and ban Americans from handling them, but also threaten to lose access to the US market if non-US people handle the two.
By Arshad Mohammed and Daphne Psaledakis
[ad_2]