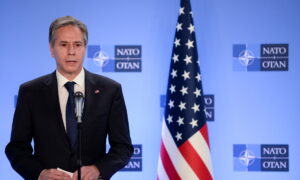 Washington / Kampala — US imposes visa ban on Ugandan government officials accused of human rights abuses and oppressive acts that have defiled January elections, putting pressure on long-time Western ally President Yoweri Museveni I'm calling.
Secretary of State Antony Blinken said in a statement that visa restrictions would apply to "people who appear to be responsible or complicating the democratic process" during the January 14 elections and preparations. Said it applies.
"Interfering with the process of democracy has consequences," Blinken later wrote on Twitter.
The statement did not nominate the targeted people. The Ugandan government rejected the claim and accused the United States of acting on the basis of "lack of information, lack of knowledge (and) ignorance."
"We won't lose sleep with this," Foreign Minister Okero Oriem told Reuters.
Museveni 76 has been in power for 35 years and has been declared the winner of the election with 58% of the votes cast, potentially extending his control to 40 years.
His main opponent, lawmaker and pop star Bobbiwine, rejected the consequences of alleging widespread misconduct, including ballot staffing, intimidation, and tampering with ballot counts.
Wine, 39, whose real name is Robert Cagranie, stimulated his support, especially among young voters. He frequently criticizes the government.
During the campaign, police and the military released crackdowns on his supporters, including detention and dissolution of the rally by tear gas and beatings.
In November, at least 54 people were killed as military and police fought to quell protests that arose after Wine was detained during the campaign for violating anti-coronavirus measures.
Wine and his party, the National Unity Platform (NUP), said security forces continued to detain their supporters after the election and some were released after cruel torture.
"This election process was neither free nor fair," Blinken said.
Susan Heavy, Jan Wolf, Elias Billy Brema