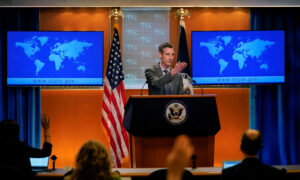 Washington — The US Department of State said on Tuesday that the United States would hold Hong Kong authorities responsible for the erosion of the rule of law within its territory.
State Department spokesman Ned Price said the risk of regular press conferences on the rule of law, which was previously confined to mainland China, is now increasingly of concern to Hong Kong.
"We know that the healthy business world relies on the rule of law. The rule of law continues to undermine the National Security Act that applies to Hong Kong," he said. ..
Price was answering a question issued Tuesday about the State Department's enhanced warning to businesses. On the increasing risk of having a supply chain and investment link to China's Xinjiang Uygur Autonomous Region. Allegations of forced labor and human rights abuses were cited there.
Prices were asked if a similar warning could be issued in Hong Kong. A source told Reuters that the Biden administration could announce a similar business advisory in Hong Kong on Friday, based on the worsening situation in Hong Kong.
Meanwhile, the Treasury has declined to comment on the Financial Times' report that Washington will impose more sanctions this week in response to China's crackdown in Xinjiang Uygur Autonomous Region and Hong Kong.
Mr Price said the United States would continue to impose "costs and sanctions" on Chinese authorities responsible for human rights abuses, including forced labor, but did not specifically mention new measures.
"As for Hong Kong, we have nothing to announce at this time about future policy developments," Price added. Erosion of the rule of law in Hong Kong. "
PRC is an acronym for the People's Republic of China, the official name of China.