[ad_1]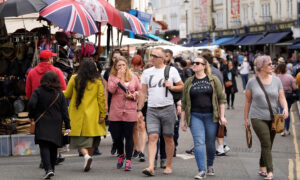 Third wave of COVID-19 hospitalization New figures suggest that it may have peaked in Britain.
A total of 593 hospitalizations for coronavirus patients were recorded on July 31, according to the NHS England.
This is a 19% decrease from the previous week, the lowest number per day since July 16th.
The 7-day average of enrollment also began to decline, dropping for the fourth straight day from 793 on July 27th to 744 on July 31st.
This number is the first sign that the recent decline in new cases of COVID-19 may be affecting the number of hospitals.
The number of new cases on July 31 was 16,019, a decrease of 72% from the peak of new cases in the UK on July 15.
Changes in the level of newly reported cases of coronavirus are usually included in hospital data because it takes a long time to test positive for COVID-19 and then become ill enough to require hospital treatment. It will take some time before it is displayed.
The number of hospitals with COVID-19 fluctuated slightly for a week after increasing on August 2, but the rate of increase has slowed.
A total of 5,309 people were hospitalized in the UK for COVID-19 on August 2, up 5% from the previous week. This is the smallest weekly increase in almost two months.
In response to this figure, Professor Paul Hunter of the University of East Anglia said: People who test or remove the NHSCOVID app, as some have suggested.
Hunter said the number of people hospitalized for COVID-19 has "clearly leveled off."
"We can expect to see this fall in the next few days," he said. "It will take another week or so before we see the reported effects on death."
The average daily reported number of deaths for British people who died within 28 days of being tested positive for COVID-19 is currently 76.
This is an increase from 64 a week ago and 42 the previous week.
Meanwhile, the average number of newly reported coronavirus cases in the United Kingdom was 26,364 on August 2, a 27% decrease from the previous week, the lowest since July 5.
The recent decline in new cases has surprised those who made more pessimistic predictions. On July 6, the Minister of Health said the new number of cases per day in the summer would reach 100,000 per day and the blockade could end on July 19, but predictions proceed. I also admitted that it would be less reliable.
The Epoch Times contributed to this report.
[ad_2]