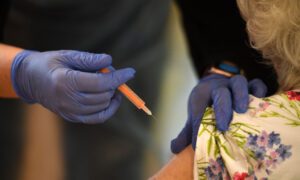 A UK study investigating the effects of a mixture of different COVID-19 vaccines was expanded to include two more vaccines on Wednesday.
The first round of the COVID-19 Vaccine Schedule Combination Comparison (COM-COV) trial, which began in February, recruited 830 participants for the Oxford / AstraZeneca and Pfizer / BioNTech vaccines. did.
COM-COV2, a new trial launched Wednesday, will add two new vaccines to the mix, with the deployment of the Moderna vaccine, which will now begin on April 7, and the Novavax vaccine, which will be approved shortly. ..
the study We plan to enroll 1,050 new participants over the age of 50 who have been vaccinated once with the COVID-19 vaccine (Pfizer or AstraZeneca) through a national vaccination program from January 25th to March 20th.
Participants will be randomly vaccinated with either the same vaccine as the first vaccination or a different vaccine (Moderna or Novavax) without knowing which vaccine was given.
Participants will be asked to keep an online diary for up to 28 days after the second dose and to have their blood (and possibly nasal fluid and saliva) examined 5-7 times in 10 months.
"The focus of both this study and the original COM-COV study is to investigate whether multiple COVID-19 vaccines available can be used more flexibly and different vaccines can be used for the first and second doses. That's it, "said a professor of pediatrics and vaccination at Oxford University, who is leading the Associate's Matthew Snape trial, in a statement.
"These mixed schedules produce an immune response as good as the standard schedule, without significantly increasing the vaccine response, which allows more people to complete the COVID-19 immune course more quickly. It can be shown that there is a possibility, "he said.
"This creates resilience within the system, even if the vaccine in use is not available."
by Official dataBy Wednesday, more than 32 million people in the UK had received the first dose of the COVID-19 vaccine and more than 8 million had received the second dose.
According to the Department of Health (DHSC), vaccines are provided to all of the government's top nine priority groups (aged 50+, clinically vulnerable people, health care and social welfare workers).
On Tuesday, the British government began calling on people over the age of 45 to book jabs.
Alexander Zhang contributed to this report.