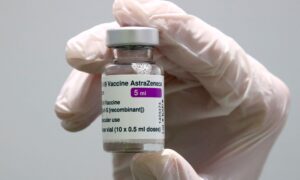 UK regulators said Thursday that they identified 30 rare thrombotic events after the use of the AstraZeneca COVID-19 vaccine. This is 25 more cases than previously reported by the authorities.
The Medicines and Healthcare Products Regulatory Agency said it had not received such reports of coagulation events after the use of vaccines manufactured by BioNTech SE and Pfizer Inc.
Health officials said they believe that the benefits of vaccines in the prevention of COVID-19 far outweigh the risks of blood clots.
Due to ongoing investigations into reports of rare and sometimes severe blood clots, some countries have restricted the use of the AstraZeneca vaccine, while others have resumed vaccination.
On March 18, UK drug regulators said there were five rare strokes out of 11 million shots.
On Thursday, there were 22 reports of cerebral sinus thrombosis, a very rare cerebral coagulopathy, and 8 reports of other coagulation events related to platelet depletion out of a total of 18.1 million doses. ..
By Peter Henderson and Julie Steenhuysen