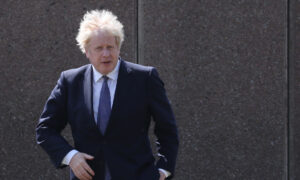 Prime Minister Boris Johnson said the British government was "concerned" about the first variant of the CCP (Chinese Communist Party) virus detected in India.
Asked how much British people should be worried about the spread of the mutant virus, Johnson said, "This is a variant of concern and I am worried. It is widespread."
Three Indian variants have been identified in the United Kingdom, one of which is known as B.1.617.2 and was designated as a "variant of concern" last week.
Public Health England has stated that it is "at least communicable" with B.1.1.7, known as a British variant or a variant of Kent.
"At this point, we have a very broad scientific opinion about what can happen. We want to be able to act cautiously and cautiously, so we know exactly what we need to do today. There is a meeting to consider, "says Johnson.
The Government's Emergency Science Advisory Group (SAGE) met Thursday to discuss the epidemic of Indian variants, fearing that the blockade of COVID-19 could affect the government's roadmap. I will.
"There's a lot we can do, of course, we're not excluding anything," Johnson told reporters when he visited an elementary school in Ferryhill, Durham.
But he said the country will resume indoor hospitality services and international travel on May 17, and lift all legal restrictions on June 21, as planned in the government roadmap. Stated.
"At this point, there's nothing to discourage you from thinking you can move on on Monday, actually June 21st, but there may be something you have to do locally. If it's the advice we get, "he said.
Johnson said he was "carefully optimistic" about the reopening of the country. "Given that this Indian variant B.1.617.2 does not take off in a way that some people fear, I do think things could get much closer to normal."
Professor James Naismith of Oxford University said that the subspecies could spread "far beyond" the area in which they were detected, suggesting a much wider community infection of the subspecies.
"I think we should consider it a national issue," he told BBC Radio 4's "Today" program. "It goes everywhere. We continue to learn this lesson, but we know it will."
PA contributed to this report.