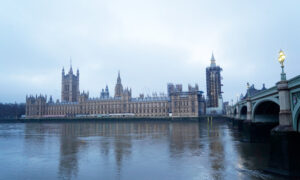 The UK government on Monday won a tight race between two versions of a genocide amendment, clearing the last hurdle for its post-Brexit Trade bill to become law.
The amendment, passed with 319 votes to 297, may potentially prevent the UK from entering trade deals with countries engaging in genocide.
If a responsible select committee of either house of Parliament finds "appropriate" evidence that a "prospective FTA [free trade agreement] counter-party" has committed genocide, and is not satisfied with the ministerial response to such findings, the committee can set out the wording of a motion, and a minister has to make an arrangement for the motion to be debated and voted on in Parliament.
The amendment is a watered down version of an amendment proposed by Lord David Alton of Liverpool, which originally sought to give the UK's domestic courts the power to make preliminary determinations on genocide, and to stop prospective and existing trade deals with countries engaging in genocide.
In a separate vote, a compromise version of the Alton amendment was defeated by 18 votes, despite the fact that the government has an 80-seat majority.
During the debate, MPs supporting the Alton amendment argued that the government's version isn't strong enough, and that it excludes Uyghur Muslims and other victims of genocide in China because it only deals with prospective FTA partners, which the UK government said China is not.
Alton proposed the amendment because it's been the UK government's long-standing position that only a competent court can make judgements on genocide. However, routes to penalize the Chinese regime on human rights abuses, including genocide, through international courts is effectively blocked.
The vote on the genocide amendment came hours after Foreign Secretary Dominic Raab announced long-anticipated sanctions against Chinese officials over the human rights abuses of Uyghur Muslims, in coordination with its Western allies.
Luke de Pulford, who drafted and campaigned for the Alton amendment, said the campaign has altered genocide debate in the UK forever.
"Massive advances made today for human rights. This campaign has secured huge wins and UK #Genocide debate will never be the same," de Pulford wrote on Twitter.