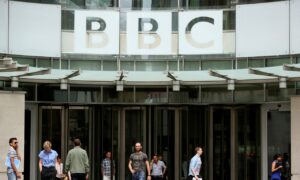 The UK will not be able to do away with the BBC licence fee for at least another 17 years, a group of MPs has said.
The government "will be forced" to maintain the licence fee as a result of its failure to enable a viable alternative form of funding for the BBC, the Department for Digital, Culture, Media and Sport (DCMS) select committee said in a report published on Thursday.
"It's clear that the BBC TV licence fee has a limited shelf life in a digital media landscape. However, the government has missed the boat to reform it," said Julian Knight, a Conservative MP who chairs the DCMS committee.
He said the government had failed to come up with a workable alternative, as it has not been able to develop a broadband infrastructure that "would allow serious consideration of other means to fund the BBC."
Residents in the UK are required to purchase a TV licence if they watch or record programmes on a TV, computer, tablet, mobile phone, or any other device that can receive a TV signal. A TV licence is also required for downloading or watching BBC programmes on iPlayer.
The government said the licence fee would be reviewed before the current BBC charter ends in 2027.
But the committee said that the government has "left itself with no option" but to continue with the current arrangement for the next 10-year charter period, which will last until 2038.
The MPs also raised concerns over speculation that licence fee evasion might be decriminalised.
The government said in January that it was "concerned" that criminal sanctions against licence fee evasion was "increasingly disproportionate and unfair in a modern public service broadcasting system."
However, the DCMS also said that decriminalising licence evasion was "problematic," so it "remains under consideration."
The MPs said the government's vague stance had encouraged the "damaging" speculation.
"The government is effectively allowing the BBC to haemorrhage funds through non-payment of the licence fee as a result of continued speculation over decriminalisation of licence fee evasion, a situation it must bring to an end," Knight said.
In an emailed statement, a BBC spokesperson said the corporation welcomes "the conclusion that the licence fee is the best way of funding a universal BBC."
"Defund the BBC", a campaign group opposed to criminalisation of TV licence evasion, called the Parliamentary committee report conclusion a "betrayal".
Writing on Facebook, the group said: "Ministers are now using lack of ultrafibre broadband as a reason to keep the licence fee until 2038. It's a nonsense. Without the licence fee people could watch freeview channels funded by advertising if they don't have decent broadband."
Lily Zhou contributed to this report.