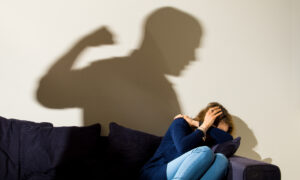 Home Secretary Suela Braverman has announced "one of the toughest series of measures" to combat domestic violence in England and Wales.
Under the new arrangement, perpetrators of the most serious domestic violence will be monitored more closely and electronically tagged to protect vulnerable partners, ex-partners and children.
Violence against women and girls is classified as a threat to the state, along with terrorism, serious organized crime and child sexual abuse.
During a visit to Warrington in the North of England on February 20, Braverman said: To better protect victims of domestic violence.
"We will change the law to better monitor perpetrators of domestic violence.
"We have put in place measures to allow domestic abuse offenders to be tagged, and we plan to add domestic abuse offenders to our violence and sex offender registry."
The Home Office said it plans to invest £8.4m over two years to fund expert victim assistance programs and ensure police prioritize combating violence against women and girls. .
According to the UK Home Office, around 2.4 million people in England and Wales experienced domestic violence in a 12-month period, with 20% of homicides following a pattern of domestic violence.
Under the proposal, police, prisons, and probation services would have to jointly manage convicted offenders of controlling or coercive behavior who have been sentenced or suspended for more than 12 months. there is.
These offenders will now also be recorded on the Violence and Sex Offenders Registry.
A new civil order being trialed in three regions of the UK could allow criminals to be electronically tagged to participate in behavior change programmes.
Codeword scheme rolled out to Job Center
The new scheme will be introduced on a trial basis at job centers nationwide. This allows victims to use the Ask for Ani codeword to discreetly inform them of their plight.
The scheme is already being used by some pharmacies, allowing them to access emergency support once a week on average.
Prime Minister Rishi Sunak said: "Neither women nor girls should feel unsafe in their homes or communities. I am determined to eradicate these horrific crimes."
Jobs and Pensions Secretary Mel Stride said:
Patrick Ryan, CEO of domestic violence charity Hestia, said: "The more opportunities victims have to access critical professional support in a safe manner, the more lives we can save. "
England and Wales Domestic Abuse Commissioner Nicole Jacobs said the new proposal would make violence against women and girls a "strategic police requirement".
She told the BBC: It called for perpetrators with more than a year's conviction to be placed on the Violence and Sex Offenders Register.
Yvette Cooper, the secretary of the interior of the Labor Party, said: But governments aren't moving fast enough.
"Ministers should not be delayed for so long after committing a year ago to make violence against women and girls part of strategic police requirements after months of pressure from the Labor Party. was.
‗They have yet to agree to Labor's plans to place domestic violence experts in 999 control rooms, leading to the shocking collapse of rape allegations and a record number of victims dropping out of the criminal justice system. We haven't taken any action to overturn the level."
Last year, a new government law was introduced that allows judges to sentence men who strangle their wives or girlfriends without killing them to up to five years in prison.
research in National Library of Medicine In the United States, it suggests that a partner is seven times more likely to be murdered if there was a prior non-fatal strangulation.
PA Media contributed to this report.