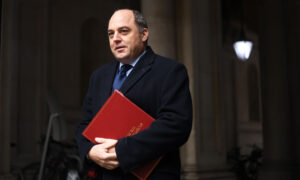 UK Defence Secretary Ben Wallace on Sunday rejected the Russian ambassador's accusation that the UK is breaking the Treaty on the Non-Proliferation of Nuclear Weapons (NPT), and said the UK needs to increase its nuclear deterrence to protect itself and its NATO allies.
The UK government on March 16 said in a policy review that it plans to stock up to 260 nuclear warheads, reversing a previous administration's announcement in 2010 to lower the cap from 225 to 180 by the mid-2020s.
Andrei Kelin, Russia's ambassador to Britain, accused the UK of violating the NPT.
"If [the] UK is going to continue to raise [the] number of nuclear warheads, and this was a big surprise for the whole world," Kelin told LBC radio on Sunday.
"You are increasing [the] number of warheads by 40 percent. This is a violation of the treaty of non-proliferation and many, many other agreements that are saying only a decline or a reduction in the number of nukes," he said.
Effective since 1970, and joined by 191 states, the NPT was designed to limit nuclear weapons and to promote nuclear disarmament and peaceful uses of nuclear energy.
According to the treaty, nuclear-weapon states—China, France, Russia, UK, and the United States—will not transfer nuclear weapons or explosive devices to any non-nuclear-weapon state, and not to assist, encourage, or induce any non-nuclear-weapon state to manufacture, acquire, or control over nuclear weapons or explosive devices.
When asked to respond to Kelin's comment, Wallace rejected the accusation.
"We're not breaking the NPT, the attorney general has been clear. What we are doing is maintaining a credible defence," Wallace told LBC. "We will still be, by the way, the lowest number of warheads kept on our books, compared to any of the allies, much much less than Russia, much much less than United States, less than France, but it's got to be credible."
"The Russians are invested in ballistic missile defence, and that means we have to make sure that, you know, we maintain it as credible."
The United States and NATO in 2018 said Russia had been developing a ground-launched missile system known as Novator 9M729, in breach of a Cold War treaty, known as the Intermediate-Range Nuclear Forces Treaty (INF), that could allow Moscow to launch a nuclear strike on Europe at short notice. Russia has consistently denied that it violated that treaty.
According to U.S. State Department, Russia began developing, producing, and testing the system since in the mid-2000s, and it "systematically rebuffed six years of U.S. efforts seeking Russia's return to compliance [of the INF treaty]."
The UK's Integrated Review of Security, Defence, Development, and Foreign Policy (pdf), published on March 16, said that the decision to increase its nuclear stockpile comes as some existing and emerging nuclear states "are now significantly increasing and diversifying their nuclear arsenals."
While recognising "China's increasing power and international assertiveness is likely to be the most significant geopolitical factor of the 2020s," the Integrated Review said Russia remains "the most acute threat" to the UK's security.
Russian news agencies cited Kelin as saying that political relations between London and Moscow, which have become strained from events from Russia's jailing of opposition politician Alexei Navalny to the poisoning in 2018 of a Russian double agent and his daughter, were "nearly dead."
Reuters and Zachary Stieber contributed to this report.