A British pedophile who raped and sexually assaulted an infant in 2010 and posted images of the abuse on the dark web has been sentenced to life in prison after an international investigation eventually tracked him down. .
Martin Armstrong, 50, pleaded guilty to a series of crimes, including 20 counts of raping a child under the age of 13, and was sentenced to a minimum of 14 years' life in prison by the Cardiff Criminal Court on Wednesday.
In 2010, the first photos of child abuse were posted on a dark web site called The Love Zone. The site was used by pedophiles to share images and brag about their perverted exploits.
Three years later, Australian Federal Police referred them to the UK's National Crime Agency (NCA), believing they originated from the UK.
The images were digitally distorted to protect the identity of the perpetrator, but in 2017 Italian investigators were able to identify him as "Martyn."
That same year, French investigators began investigating the case, trying to identify the beach associated with the mysterious "Martyn."
He surveyed the geology of the coast, found it to be in either Ireland or Wales, and finally identified it as a stretch of coast in Pembrokeshire in western Wales.
But the case remained unsolved until last year, when the NCA created a new technique to neutralize image distortion, finally identifying the faces of both perpetrators and victims.
They eventually identified the culprit as Martin Armstrong, who moved to Derbyshire in January 2022 after selling the very same house near the beach identified by French investigators. .
The NCA team worked on the name "Martyn" and confirmed that Martyn Armstrong had a link to the beach by matching images on Martyn Armstrong's social media profiles with abuse images.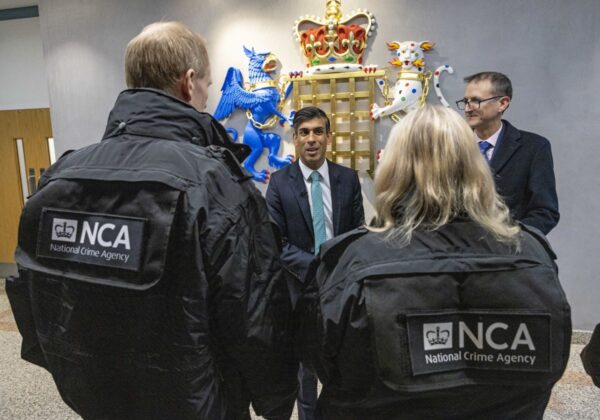 On 30 July 2022, Armstrong was stopped by South Wales Police on the M4 motorway and arrested.
A search of his home found one of the cameras used to film the abuse. This forensically matched the image, as did the image itself on the laptop.
Faced with a large body of evidence against him, Armstrong pleaded guilty to a series of crimes when he appeared at the Cardiff Criminal Court in September 2022.
The crime started in June 2005 and continued until February 2011.
Victim tells Armstrong he was a 'monster'
In a statement on the impact on victims, one abused person addressed Armstrong, saying: Given the type of person capable of committing such horrific crimes, it feels like only a monster can be held responsible. "
Prosecutor Roger Griffiths told the court that Armstrong's face was "obscured by a zig-zag distortion."
Defense Attorney Adam Sharp said: Armstrong does not want me to try to mitigate the depravity of his actions or the impact he had on his victims.
Judge Tracy Lloyd Clark, who sentenced him, said Armstrong "had a longstanding interest in the worst kinds of sexual abuse."
"Pedophiles around the world continue to look at images for sexual gratification," she said.
NCA Operations Manager Martin Ludlow said: I don't think he expected to get caught, nor did he think the warp tech he used would protect him. But the NCA and our international partners are determined to ensure that his evil actions go unpunished. "
The NCA said the three victims were tracked down, counseled and "protected".
Armstrong was charged with 20 counts of raping a child under 13, 1 count of trespassing, 3 counts of sexual assault, 5 counts of forcing or inciting a child under 13 to have sex, and 1 count of having sex. and one case of inciting sexual activity. We distribute 204 images of her in the most serious categories of child abuse.
In November, he pleaded guilty to possession of 4,105 child abuse images, two counts of burglary assault, one count of sexual assault, and two counts of producing and distributing child abuse images.
Ludlow said: Investigators have done an amazing job piecing together the limited information to finally reveal that Armstrong is the person in these images. "
Lucy Dowdal, senior prosecutor for the CPS Cymru-Wales RASSO (Rape and Serious Sex Offenses) Unit, said: Despite the passage of time and the steps he took to hide his identity, CPS filed a solid case against him, leading to a guilty plea. "
PA Media contributed to this report.