The UK government is estimated to have borrowed £19.1 billion ($26.6 billion) last month, the highest for February since monthly records began in 1993.
The borrowing figure is £17.6 billion ($24.5 billion), more than that of February 2020, according to new data released by the Office for National Statistics (ONS) on Friday.
Public sector net borrowing was £19.1 billion in February 2021, £17.6 billion more than the previous February.

This is the highest February borrowing since monthly records began in 1993 https://t.co/A86WJdhDDm pic.twitter.com/shvliMWZI8

— Office for National Statistics (ONS) (@ONS) March 19, 2021
In February 2021, central government bodies are estimated to have spent £72.6 billion ($101 billion) on day-to-day activities, £14.2 billion ($19.8 billion) more than one year ago.
In the last month alone, £3.9 billion ($5.4 billion) was spent on the "coronavirus job support schemes", commonly known as furlough schemes, which pays 80 percent of the salaries of workers who cannot work as a result of the government's CCP (Chinese Communist Party) virus lockdown measures.
The CCP virus pandemic and the government's lockdown measures have put huge financial pressure on the UK.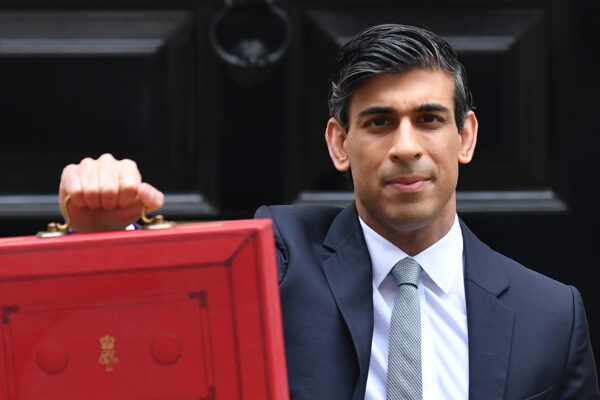 The extra funding required for government schemes to support businesses hit by lockdown measures, combined with reduced tax revenues and a fall in gross domestic product (GDP), have all helped push Britain's public sector net debt to a new high.
Britain's total public debt now stands at £2,131.2 billion ($2,967.8 billion), equivalent to around 97.5 percent of gross domestic product (GDP), a level not seen since the early 1960s.
In the 11 months to February 2021, central government tax and National Insurance receipts fell by £36.8 billion ($51.3 billion), or 5.7 percent, from the same period a year earlier.
During the same period, government support for individuals and businesses during the COVID-19 pandemic contributed to an increase of £187.6 billion ($261.2 billion), or 27.9 percent, in central government day-to-day spending, the ONS said.
Delivering the annual budget on March 3, Chancellor of the Exchequer Rishi Sunak said, "Our economy has shrunk by 10 percent—the largest fall in over 300 years. Our borrowing is the highest it has been outside of wartime."
Sunak announced that corporation tax will be raised to 25 percent from 19 percent from 2023, by which time he predicted the economy should be past the COVID-19 crisis.
He also said he would freeze the amount of money that people can earn tax-free and the threshold for the higher rate of income tax at the 2021/22 level until April 2026.
According to the Office for Budget Responsibility, the tax rises will increase the tax burden to 35 percent of GDP in 2025/26, its highest level since the late 1960s.
Reuters contributed to this report.