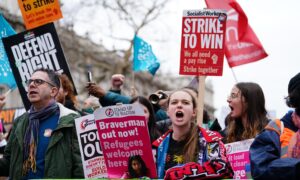 Up to 500,000 workers, including tens of thousands of teachers, took part in nationwide industrial action on Wednesday in Britain's largest strike in a decade.
The massive strike involved members of seven trade unions, including civil servants, train and bus drivers, and university staff. Picket lines were set up outside train stations, schools, government offices, and universities across the country.
The National Education Union (NEU) said it believed "more than 200,000" members had taken part in the strike, affecting about 85% of schools in England and Wales.
More than 100,000 members of the Public and Commercial Service (PCS) union also went on strike, including border officials at ports and airports.
At the prime minister's question in the House of Commons, Rishi Sunak voted against a proposal to introduce a minimum service level during the strike, a public order aimed at cracking down on subversive protests by climate activists in the organization. He criticized Labor leader Sir Kiel Sturmer for voting against the bill change. Just stop oil etc.
Sunak said: They fund him and his party. So while he supports extremist protesters and trade union bosses, we stand up for hard-working Brits and schoolchildren.
Sturmer replied, "It is utterly pathetic to try to blame Labor for failing to organize a strike after 13 years in power."
"Very disappointing"
It was the first of a seven-day teachers' strike scheduled for February and March, after talks between the NEU and Education Secretary Gillian Keegan could find a solution to the wage dispute. could not.
Ministry of Education data estimated that 45.9% of schools were fully open, 44.7% were open with limited attendance, and 9.3% were closed.
NEU co-secretaries Mary Bousted and Kevin Courtney called on the secretary of education to "strengthen specific and meaningful proposals" on teacher salaries to prevent further strikes.
"Today we notified the Secretary of Education that she will have to change her stance before the next strike date against England on 28 February."
Union leaders warned:
Keegan called the NEU's strike action "very disappointing".
she said: However, many teachers, principals, and supportive her staff have shown that the education and well-being of children must always come first.
"Discussions with the union are ongoing and I will continue to discuss wages, workloads, recruitment and retention, etc."
Unionists Call for 'Unity'
In an article published in The Morning Star on Wednesday, one of the NEU's co-general secretaries, Courtney, said the left-wing newspaper made it clear that the union's agenda is not limited to improving teacher salaries. I made it
Focusing on the government's efforts to crack down on illegal immigration in the English Channel, trade union leaders wrote: "
He added: While we take action, we must organize to oppose any attempt to divide us. "
"Now that this government is simultaneously denigrating trade unions and refugees and immigrants, it's time to mobilize the majority of anti-racist people in the streets," he said, adding, "Strikers, refugee solidarity, I want to see faith activists rise up," he added. Together at the 'Resist Racism' protests scheduled for March 18 in London, Glasgow and Cardiff.
"Fair to all taxpayers"
Downing Street said the government wanted to hold more consultations with unions to avoid further strike action.
Asked what Rishi Sunak was doing to sort out the industrial action, his official spokesman said: Some of those discussions were constructive. We need to balance the need to be fair to all taxpayers, the majority of whom do not work in the public sector. "
"Inflation is one of the biggest risks to people's wage packets," he said. I assure you that the price is right," he added.
A spokesperson said: There are tax increases, there are borrowings, and there are cuts.
"And it is these kinds of considerations that governments, responsible governments, need to consider."
PA Media contributed to this report.